---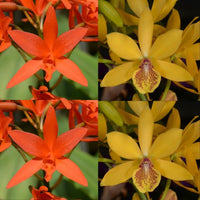 Hybrid seedling plant in a 100mm pot.
This is a great non-traditional hybrid and an amazing flower producer, with mature plants having as many as 35 flowers on a single branched inflorescence. Simply spectacular! When this grex is made with 'SVO' 4n the progeny almost all flowers are orange. Plants are super easy to grow, and the flowers are about 1" across, and did I mention, FRAGRANT?!  Yes - they are! This is a fun cross with a very different look. These plants are growing well, and many will flower this spring

.
Imported Seedling from Sunset Valley Orchids, USA. The picture shows the parents of this cross. The above description details the expectation of this hybrid.
For information on growing Cattleyas check out our growing page at http://barritaorchids.com/pages/growers-resource-page