---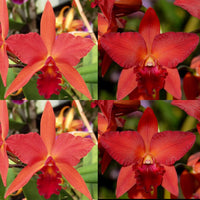 Hybrid seedling plant in a 50mm tube.
Spring Fires (Lc. Fires of Spring x Lc. Fire Island) has strong upright stems carrying 5-9 red/orange flowers with darker red lips. It has proven to be an excellent parent, with dominance for colour, a sturdy inflorescence, and blooming period. Star Fire (Lc. Trick or Treat x Pot. Rubescence) is an impressive sight, the 7 well-supported red flowers having good shape and ruffled lips in darker red. This style of breeding will deliver intense red colour, flat flowers with rounded starry-shaped petals, we are also expecting sturdy stems holding 7-8 flowers above the foliage, all on compact plants barely standing 10-12" tal

.
Imported Seedling from Sunset Valley Orchids, USA. Picture shows the parents of this cross. The above description details the expectation of this hybrid.
For information on growing Cattleyas check out our growing page at http://barritaorchids.com/pages/growers-resource-page