---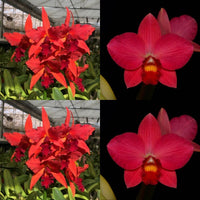 Hybrid seedling plant in a 50mm tube.
Spring Fires (Lc. Fires of Spring x Lc. Fire Island) has strong upright stems carrying 5-9 red/orange flowers with darker red lips. It is proving to be an excellent parent, with dominance for colour, strong stems and bloom period.
Virginia Dickey (Slc. Pink Doll x Sl. Pole-Star) is a darling mini-Catt. Plants flower twice a year in 3" pots and have sturdy stems holding 2-3 bright red flowers of superior form.  My gut is telling me this is going to be a good cross. The standard-sized plant of Spring fires is crossed with the mini plant of Virginia Dickey will make the plant about 8 tall, expect 5-6 red flowers with darker red lips to be displayed above the foliage. As I am writing this I went to the Greenhouse and re-made this cross again.
Imported Seedling from Sunset Valley Orchids, USA. The picture shows the parents of this cross. The above description details the expectation of this hybrid.
For information on growing Cattleyas check out our growing page at http://barritaorchids.com/pages/growers-resource-page