---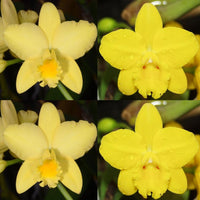 Hybrid seedling plant in a 50mm tube.
Pot. Princess Takamado
Love Sound has proven itself over and over as a valuable breeder and is dominant for yellow flower colour, form, stem, and plant habit.  Beaufort (Soph. coccinea x C. luteola) has a long history of breeding excellent mini-catts and is one of the most important mini-breeders. It produces reliably high-quality offspring. These plants are vigorous, and they will flower in 3" pots. The plants will display 3-4 well-formed yellow flowers with a bit of red on the lips. A very cute plant that is easy to grow and flower.
Imported Seedling from Sunset Valley Orchids, USA. Picture shows the parent of this cross. The above description was written by Fred Clarke and details the expectation of this hybrid.
For information on growing Cattleyas check out our growing page at http://barritaorchids.com/pages/growers-resource-page