---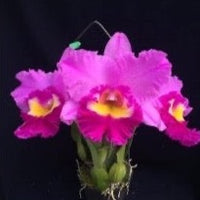 Cattleya clone plant in a 50mm tube.
The return of large Cattleyas is well and truly on. The big difference in the modern version is the attention to plant style the breeders have invested in. They have selected short rhizome plants. This keeps the bulbs tight together. So, you get a flowering size plant in a four-inch pot carrying 3 flowers of 150mm.
The photo is of the original plant flowering in Taiwan.