---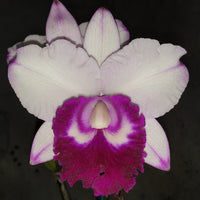 Cattleya clone plant in a 50mm tube.
Proven Performer. Classic cattleya with broad petals and lip. Magenta Lip with White 'Eyes'. Magenta wedges to petals and sepals. Blooms in Summer-Autumn. This is one of the best medium-sized Cattleya clones available.
This clone is from Colours of Eden nursery in Queensland. I have been very impressed with the growth rate of the plants we have from them.
The flower photo is of what to expect when the plant is flowering.