---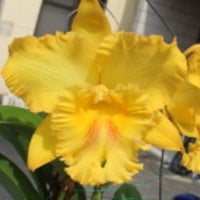 Clone Cattleya plant in a 50mm pot.
This is a stunning flower! 16cm natural spread of pure yellow flower. Complimented by the huge, frilly lip of the same colour with dashes of soft red in the centre. Wilson at Chief Orchids has done it again.
金竹山
translates to
Golden Bamboo Mountain.
The photo is from the original plant flowering in Taiwan