---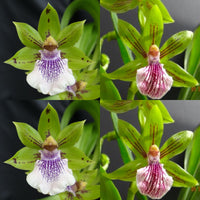 Hybrid seedling in a 100mm pot. 
This I know will be a great cross already showing quick growth, maturing first bulbs at an early stage. The flowering will be stunning. Rich green blooms with the odd red stripe. Reddish Lips.
Hybrid by 

Stephen

 Monkhouse
The picture shows the parents of this cross. The above description details the expectation of this hybrid. 
For information on growing Zygopetalums check out our growing page at https://barritaorchids.com/pages/growers-resource-page