---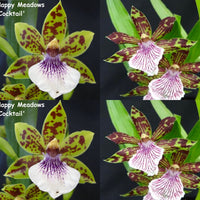 Hybrid seedling in a 100mm pot. Ready to flower.
Excellent grower, maturing quickly within 3 yrs. The plants will be compact bearing multiple flower spikes with strong self supported flower stems. Flowers predominately green with red stripes. Expect broad segments from the Adelaide Meadows back ground lots of  Perfume.
Hybrid by Stephen Monkhouse
Picture shows the parents of this cross. The above description details the expectation of this hybrid. 
For information on growing Zygopetalums check out our growing page at https://barritaorchids.com/pages/growers-resource-page