---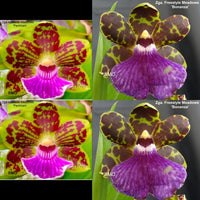 Hybrid seedling in a 50mm pot. Leaf length <10cm.
Peckham has exceptional petal width to go with the nice flat form. It will complement 'Bonanza' to build very full flowers with purple lips. Sweetly perfumed

.
Hybrid by 

Stephen

 Monkhouse
The picture shows the parents of this cross. The above description details the expectation of this hybrid. 
For information on growing Zygopetalums check out our growing page at https://barritaorchids.com/pages/growers-resource-page