---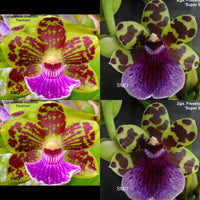 Hybrid seedling in a 50mm pot. Leaf length <10cm.
Another outstanding combination. Two exciting parents crossed to make award-quality plants. Colours will be varied and will be a nice surprise when flowering. Sweetly perfumed

.
Hybrid by 

Stephen

 Monkhouse
The picture shows the parents of this cross. The above description details the expectation of this hybrid. 
For information on growing Zygopetalums check out our growing page at https://barritaorchids.com/pages/growers-resource-page