---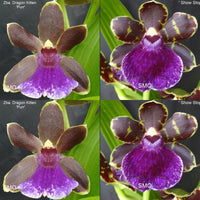 Hybrid seedling in a 50mm pot. Leaf length <10cm.
If you're into awards and showing your plants then this is the cross that you should buy. I am expecting lots of fully shaped blooms on upright flower stems. Rich chocolate in colour featuring seriously stunning purple lip

.
Hybrid by 

Stephen

 Monkhouse
The picture shows the parents of this cross. The above description details the expectation of this hybrid. 
For information on growing Zygopetalums check out our growing page at https://barritaorchids.com/pages/growers-resource-page