---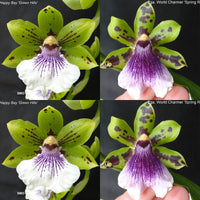 Hybrid seedling in a 50mm pot. Leaf length <10cm.
Again, another of my famous green hybrids, expect to see some pure greens and some with an overlay of spots and splashes. Flowers are standard size, perfumed, still compact in growth, and have red-purple lips. These are easy to bloom and fast growers.
Hybrid by 

Stephen

 Monkhouse
The picture shows the parents of this cross. The above description details the expectation of this hybrid. 
For information on growing Zygopetalums check out our growing page at https://barritaorchids.com/pages/growers-resource-page