---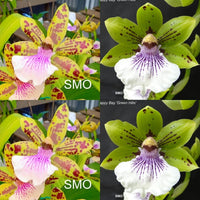 Hybrid seedling in a 50mm pot. Leaf length <10cm.
Here is a chance to flower yellow/orange blooms that will be great eye-catchers. If you exhibit this hybrid in any show as a mature plant it will definitely be seen. As a pot plant a huge potential. Colours yellow/orange plus a few greens. Plants are again compact, and although a standard cross, flower spikes can appear on plants growing in 130mm pots. Perfumed.
Hybrid by 

Stephen

 Monkhouse
The picture shows the parents of this cross. The above description details the expectation of this hybrid. 
For information on growing Zygopetalums check out our growing page at https://barritaorchids.com/pages/growers-resource-page