---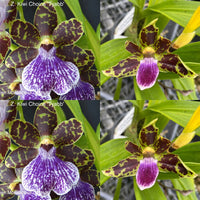 This flask was produced at Barrita Orchids. We plant 25 seedlings per flask. This does not guarantee 25 plants, as some may not develop after planting.
Hybrid by Stephen Monkhouse.
'Tyabb' is well known for producing beautiful, full shaped and balanced flowers. In this cross, we are looking to reduce the plant size and keep the flower size. Expect compact plants that produce patterned flowers with purple veined lips..
For information on de-flasking click here and for growing Zygopetalums click here