---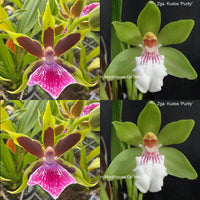 This flask was produced at Barrita Orchids. We plant 25 seedlings per flask. This does not guarantee 25 plants, as some may not develop after planting.
Hybrid by Stephen Monkhouse.
We are very excited to have seedlings from Galeopetalum [Gptm.] Arlene Armour. Despite half of this plant's genetic makeup is unknown, it is a stunning plant. Great presence and presentation on arching stems. In this cross with Zga. Kudos 'Purity' we see the first of an unnamed genus. We are looking to "clean" the brown from the Galeopetalum to give huge green flowers with pink lips. Exciting hybrid!
For information on de-flasking click here and for growing Zygopetalums click here