---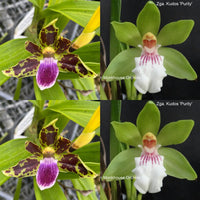 This flask was produced at Barrita Orchids. We plant 25 seedlings per flask. This does not guarantee 25 plants, as some may not develop after planting.
Hybrid by Stephen Monkhouse.
Truly miniature Zygo flowers. These parent plants have all the genes we look for in a miniature plant. The overall height of a mature plant is under 25cm. The foliage is fine and balanced. Spike production is good. Expect predominantly green flowers with dark bars and blotches, lips will be pale pink. The plants will remain compact.
For information on de-flasking click here and growing Zygopetalums click here