---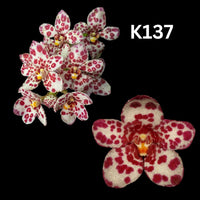 Cross by Scott Barrie, Barrita Orchids.
The best of our new harlequin-style Sarcochilus. We can expect awesome, vividly spotted flowers on long stems. These seedlings will be vigorous growers and produce multiple spikes.  Given the background of both parents, we can also expect some patterned flowers.
Flasks are ready to deflask on arrival. We plant 25 plants in a flask. This does not mean you are guaranteed 25 as occasionally some may not develop and the flask will still look good when we are selecting flasks to sell.
For information on deflasking check out our resource page.