---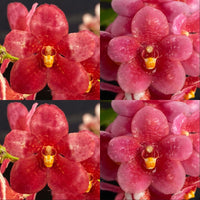 Cross by Scott Barrie, Barrita Orchids.
This is the first cross of the new pink-orange tone. The genetic makeup of this line is super interesting. There are three doses of S. Topaz in this hybrid, giving an amazing 7.8% of the species S. spathulatus! This is unusually high for a hybrid as advanced as this. Looking at those parents, can you see any trace of that species? Only in the colour tone. These will be amazing flowers, large and very full form. Colours could contain some surprises.
Flasks are ready to deflask on arrival. We plant 25 plants in a flask. This does not mean you are guaranteed 25 as occasionally some may not develop and the flask will still look good when we are selecting flasks to sell.
For information on deflasking check out our resource page.