---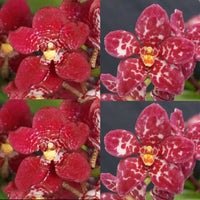 Cross by Scott Barrie, Barrita Orchids.
To say that S. Maria has had an impact on Sarc breeding is an understatement. They impart exceptional growing vigour and when crossed correctly, will produce outstanding quality flowers. In this cross with one of our original Kulnura Dazzels, we will see huge, spotted, and bared red flowers displayed on arching stems.
Flasks are ready to deflask on arrival. We plant 25 plants in a flask. This does not mean you are guaranteed 25 as occasionally some may not develop and the flask will still look good when we are selecting flasks to sell.
For information on deflasking check out our resource page.