---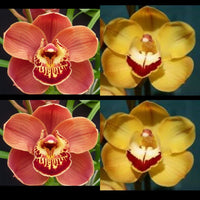 This flask was produced at Barrita Orchids. We plant 25 seedlings per flask. This does not guarantee 25 plants, as some may not develop after planting.
The picture collage shows the parents of this cross. The following description details the expectation of this hybrid. Cross by John Gate.
Seriously nice light orange flowers with bold, red-barred lips. There are very strong yellow genes on the Flaming Amber through the grandparent, Lunar Wall. Plants will be strong growers and produce well-displayed spikes.

 
For information on deflasking check out our resource page at https://barritaorchids.com/pages/growers-resource-page