---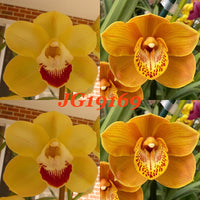 Hybrid by John Gate. This plant is a single growth (approximately 12 months old) in a 50mm pot.
Description of the expectation for this hybrid. 
The yellow overlayed with red veins style of orange is one of my favourite colours in Cymbidium. In this cross, we see a lineage full of overlayed flowers on both sides. Expect full-formed flowers with varying degrees of red veining. Bold red lips on standard-sized flowers. An interesting possibility is the yellow lip of Foxfire Amber 'Dural' as a grandparent. This is a very attractive trait. Winter flowering

.
The picture collage is of the parents of this hybrid.
For more information on growing Cymbidiums please check the Resource Page of our website.