---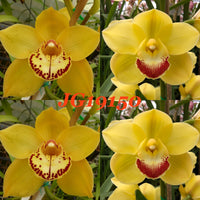 Hybrid by John Gate. This plant is a single growth (approximately 12 months old) in a 50mm pot.
Description of the expectation for this hybrid. 
Twilight in Gold is a wonderfully complex hybrid from quite different origins to most of the yellow-gold breeding in Australia. 'Kentlyn' has been the standout flower at the Cymbidium show in Sydney for several years and last year was the OSCOV Cymbidium of the Year. Expect golden yellow with red lip. There is a slight chance of orange shades. Full shape blooms in late winter

.
The picture collage is of the parents of this hybrid.
For more information on growing Cymbidiums please check the Resource Page of our website.