---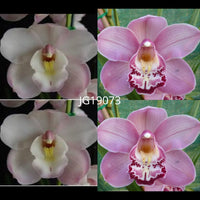 Hybrid by John Gate. This plant is a single growth (approximately 12 months old) in a 50mm pot.
Description of the expectation for this hybrid. 
'Pastel Jewel' is a great older hybrid from Valley Orchids. It produces strong tall spikes of well-arranged pale pink flowers. In combination with the outstanding genes of Ell Ronis, we will see beautiful pale pinks of award-quality shape on tall spikes

.
The picture collage is of the parents of this hybrid.
For more information on growing Cymbidiums please check the Resource Page of our website.