---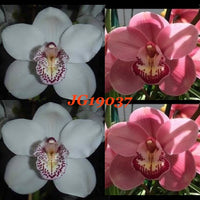 Hybrid by John Gate. This plant is a single growth (approximately 12 months old) in a 50mm pot.
Description of the expectation for this hybrid. 
'Hollywood' remains one of the most outstanding flowers shown in Sydney for many years. In combination with the imposing Dural Dream 'Picture', we can expect huge pinks, with the chance of some whites, on tall stems of very high-quality flowers. Early spring flowering

.
The picture collage is of the parents of this hybrid.
For more information on growing Cymbidiums please check the Resource Page of our website.