---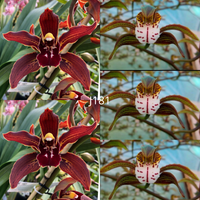 Hybrid by Scott Barrie, Barrita Orchids. This plant is a single growth (approximately 12 months old) in a 50mm pot.
Description of the expectation for this hybrid. 
This is a remake of Cymbidium Arachnid with our sensational Dearth Wish 'Velvet Chocolate'. Expect deep-coloured, spidery-shaped flowers on tall slender spikes. Stunning version of this exotic hybrid.
The picture collage is of the parents of this hybrid.
For more information on growing Cymbidiums please check the Resource Page of our website.