---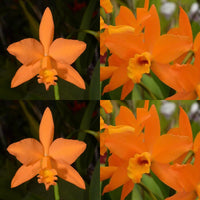 Hybrid seedling plant in a 50mm tube.
Bright orange flowers are hard to come by, so this was a natural cross to make. Love Passion (Lc. Trick or Treat x Slc. William Farrell) produces 7-9 true orange flowers on a strong stem.  Guess What (Lc. Trick or Treat x Blc. Waikiki Gold) has an intense orange-gold flower color - it is just fantastic!  Guess What also produces 7-9 flowers displayed well above the foliage.  These are going to have strong stems of bright orange flowers held high.  I really like this style of breeding, and these will make excellent display plants.
Imported Seedling from Sunset Valley Orchids, USA. The picture shows the parents of this cross. The above description details the expectation of this hybrid.
For information on growing Cattleyas check out our growing page at http://barritaorchids.com/pages/growers-resource-page