---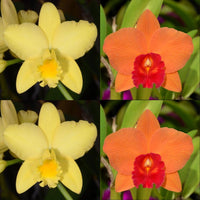 Hybrid seedling plant in a 50mm tube.
Pot. Memoria Geri Male
Love Sound needs little introduction; it is described a number of times in this listing.  Golden Circle (Blc. Goldenzelle x Slc. Circle of Life) has superb form with 3.5" orange flowers and red lips on a 6" tall plant that blooms twice a year.  This cross will produce well-formed flowers, presented nicely on upright stems.  Flowers will be yellow to orange/yellow with a red lip. These will have a compact plant habit, and ease of growth and blooming, making this a highly desirable cross.
Imported Seedling from Sunset Valley Orchids, USA. Picture shows the parent of this cross. The above description was written by Fred Clarke and details the expectation of this hybrid.
For information on growing Cattleyas check out our growing page at http://barritaorchids.com/pages/growers-resource-page