---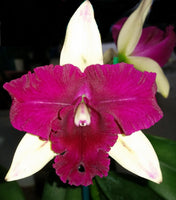 Cattleya clone plant in a 50mm tube.
Strik

ing splash of solid Purple on the petals, contrasting with Pale Pink Sepals. Flowers appear in Autumn and are well displayed.
This clone is from Colours of Eden nursery in Queensland. I have been very impressed with the growth rate of the plants we have from them.
The flower photo is of what to expect when the plant is flowering.