---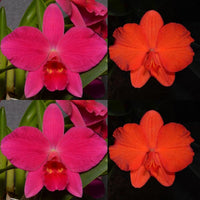 This flask was produced at Barrita Orchids. We plant 25 seedlings per flask. This does not guarantee 25 plants, as some may not develop after planting.
Hybrid by Fred Clarke, Sunset Valley Orchids.
Sl. Minipet
This is one of the best solid red mini-catts available and will easily bloom in 3" pots. Both of the parents are tetraploids, which will create an excellent flower form.  Orpetii is a primary hybrid (L. pumila x Soph. coccinea), and coccinea 'Hidden Treasure' originated at 'Gold Country Orchids' and is one of the very best, with perfectly flat 3" flowers.  The genetic makeup of this grex is approximately 75% Sophronitis and 25% Laelia.  These look like super good Soph. coccineas and are proving to have larger flowers than the original cross.  As a bonus, the plants are much easier to grow and bloom than either parent.
For information on de-flasking click here and growing Cattleyas click here