Scott's USA 2019
We've put a select group of flowering sized Sarcochilus plants and seedlings, some fine peloric Cymbidiums and clones, and some specially selected Dendrobium plants and clones together to bring to the USA this coming March.
Sarcochilus flasks
Welcome to the flask list for Scott's 2019 USA tour. This is the most extensive flask offering we have made in the USA and contains some significant developments in early flowering, reds, golden yellow and exciting patterns. I strongly suggest that you pre-order as there are very limited numbers of flasks available per cross and for those of you on the East coast, there is a limit to how many unsold flasks I can bring over.
25 plants per flask. Prices for each cross are in the description and in US dollars. If you can't make it to a meeting I can Fedex them out to you at cost price including packaging. Payment via PayPal is my preferred option, this will also work at meetings. Cash is fine too.
Email orders to scott@barritaorchids.com.au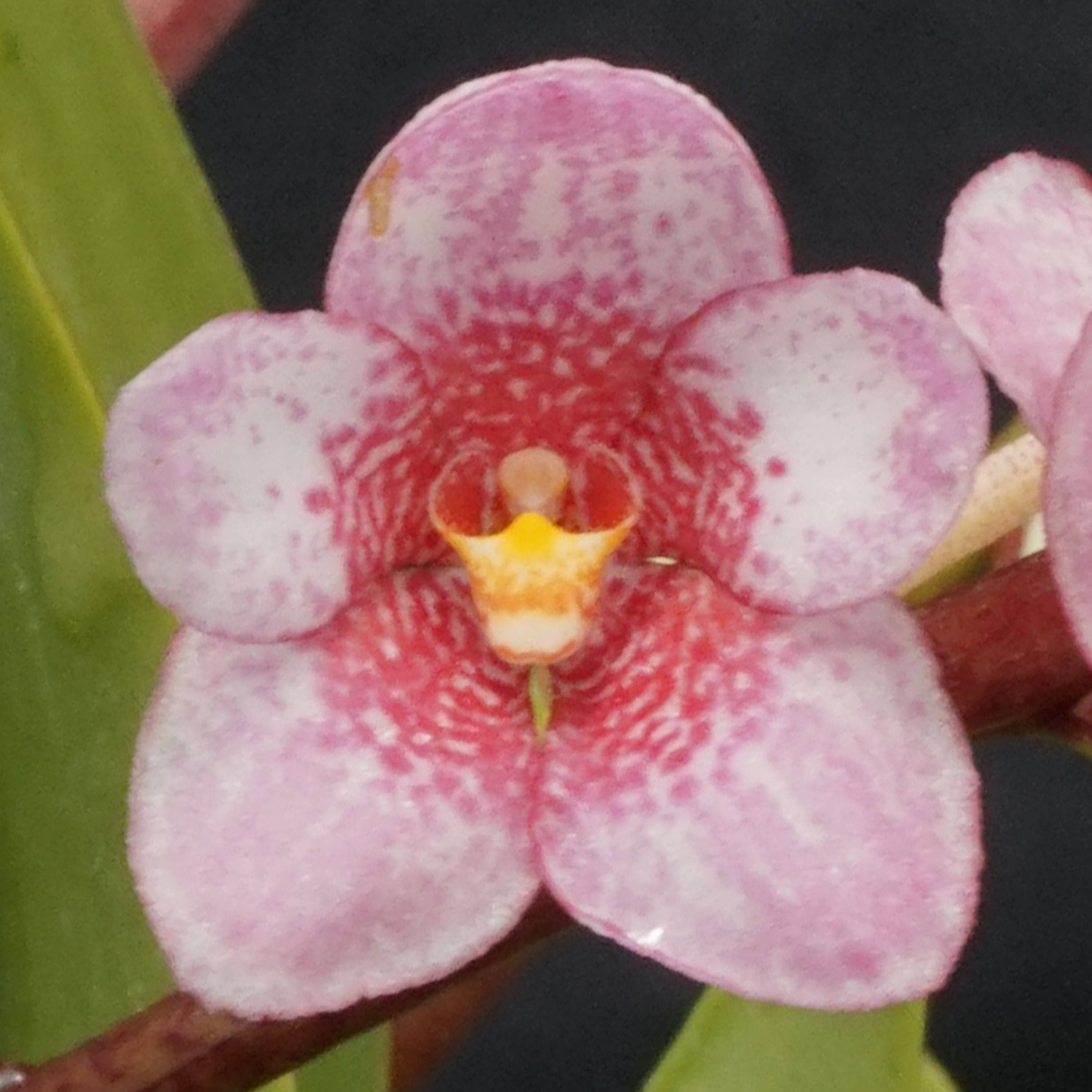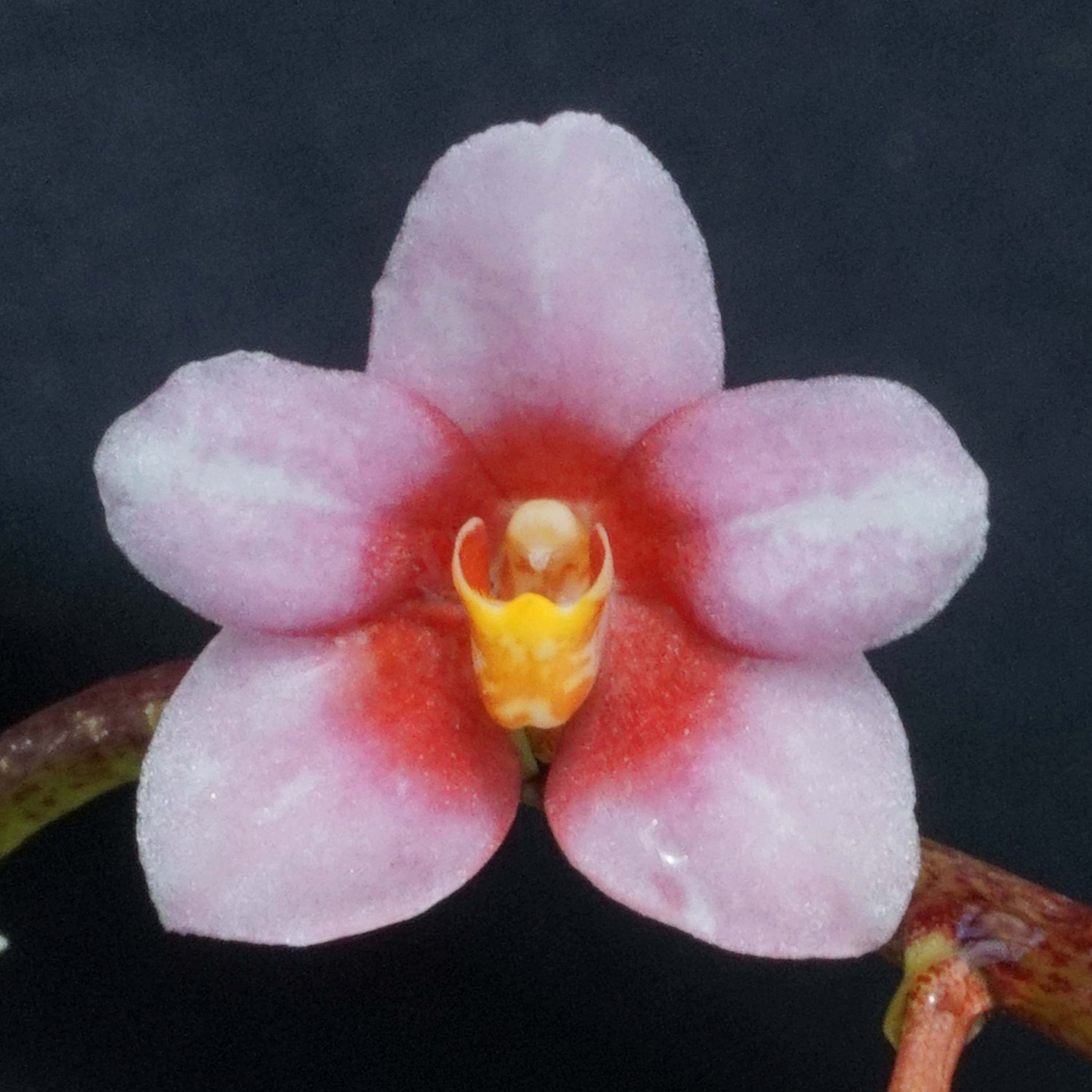 G025 Kulnura Pass 'Multi Blush pink' x Kulnura Dip 'Multi Pink Heart' $85
The next step in early flowering development. This cross will yield high quality patterns and pinks as a new benchmark in early flowering Sarcs. Expect strong growing plants that are very free flowering.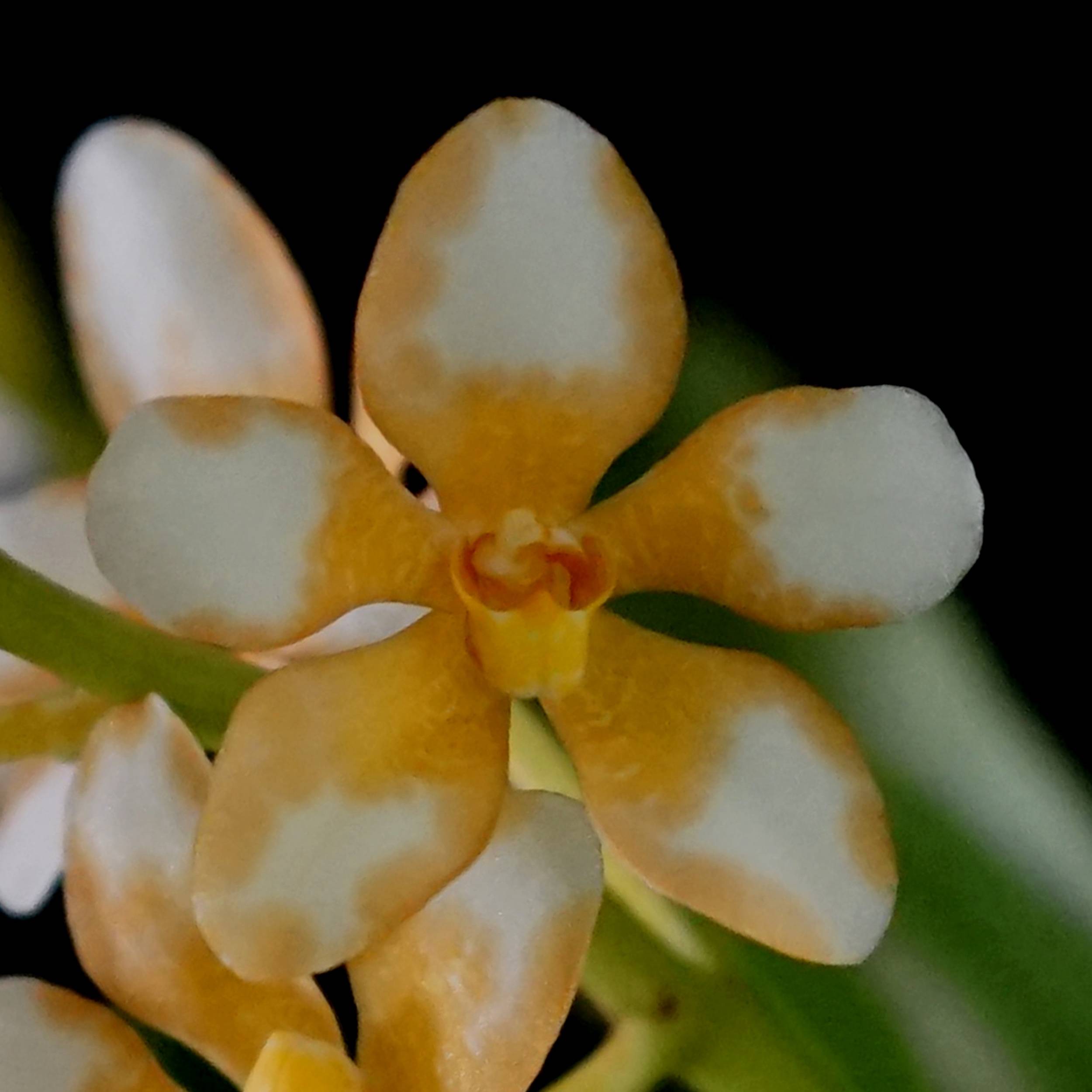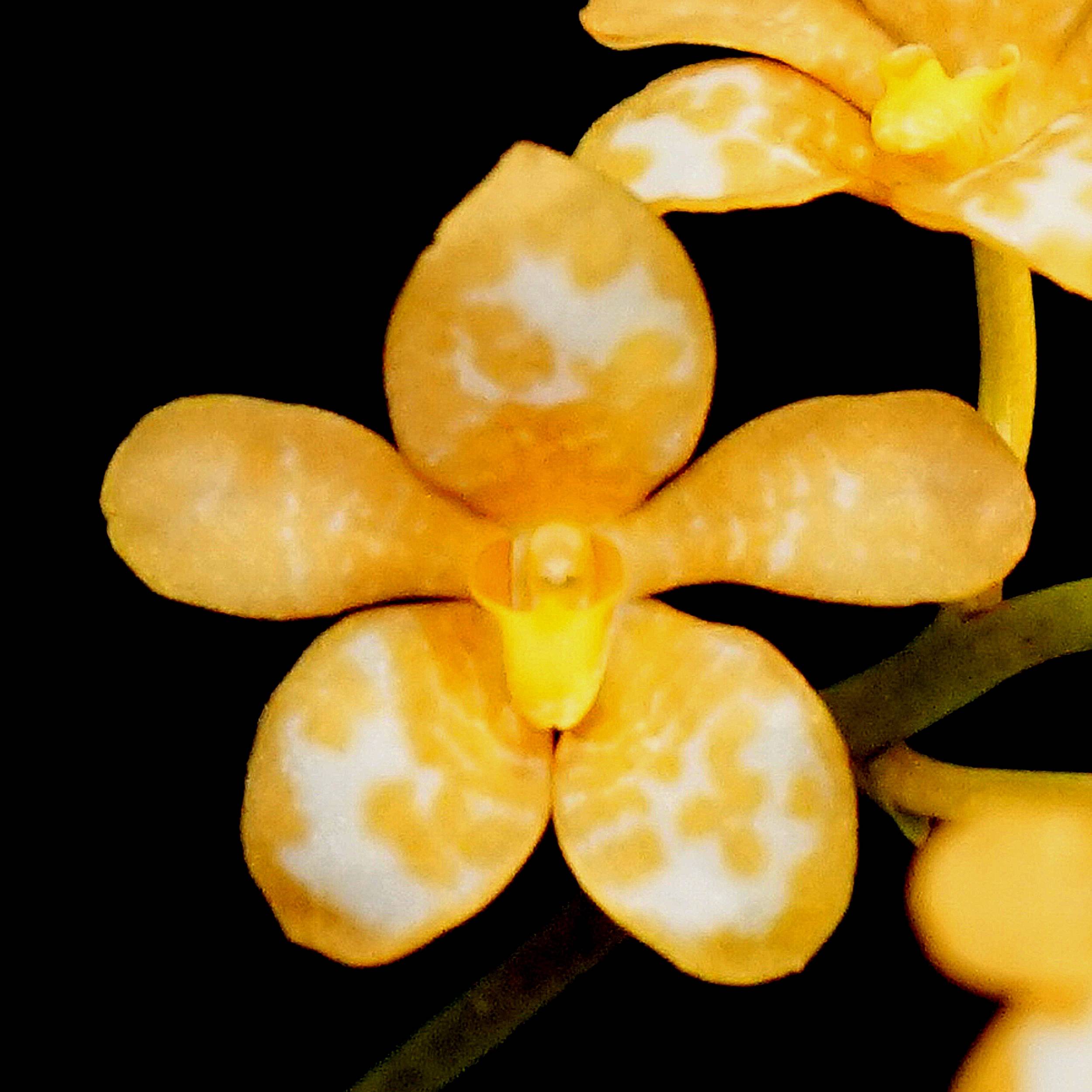 G028 Rachel Emma 'Golden cross' x Kulnura Dip 'Spotted Gold' $75 Limited availability.
With the expansion of the alba yellow breeding lines we have seen a number of new styles appear. Here we are targeting the attractive and contrasting yellow with white splashes. These plants both flower in profusion, expect lots of spikes.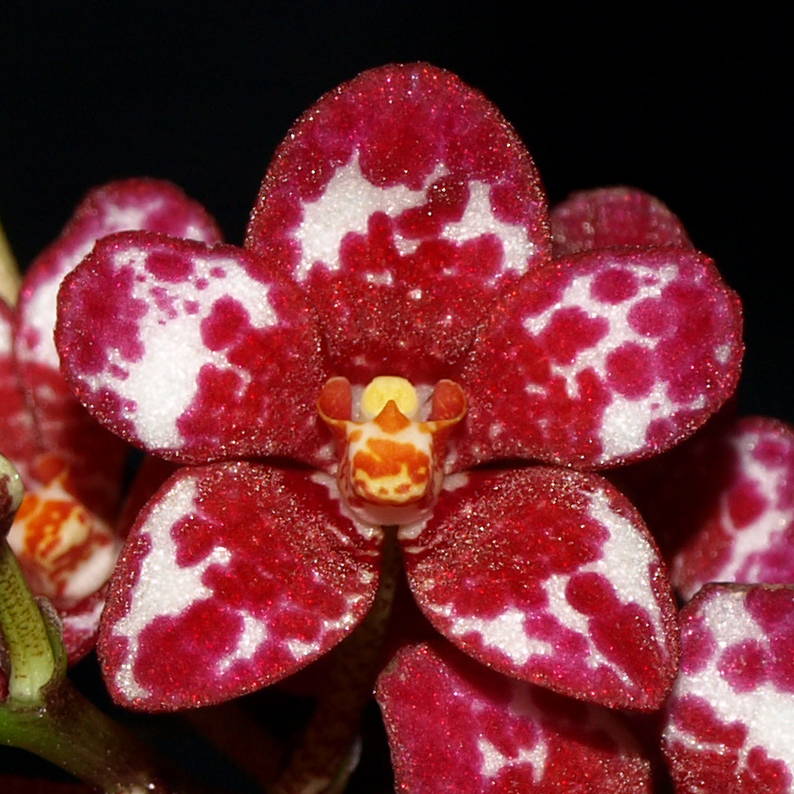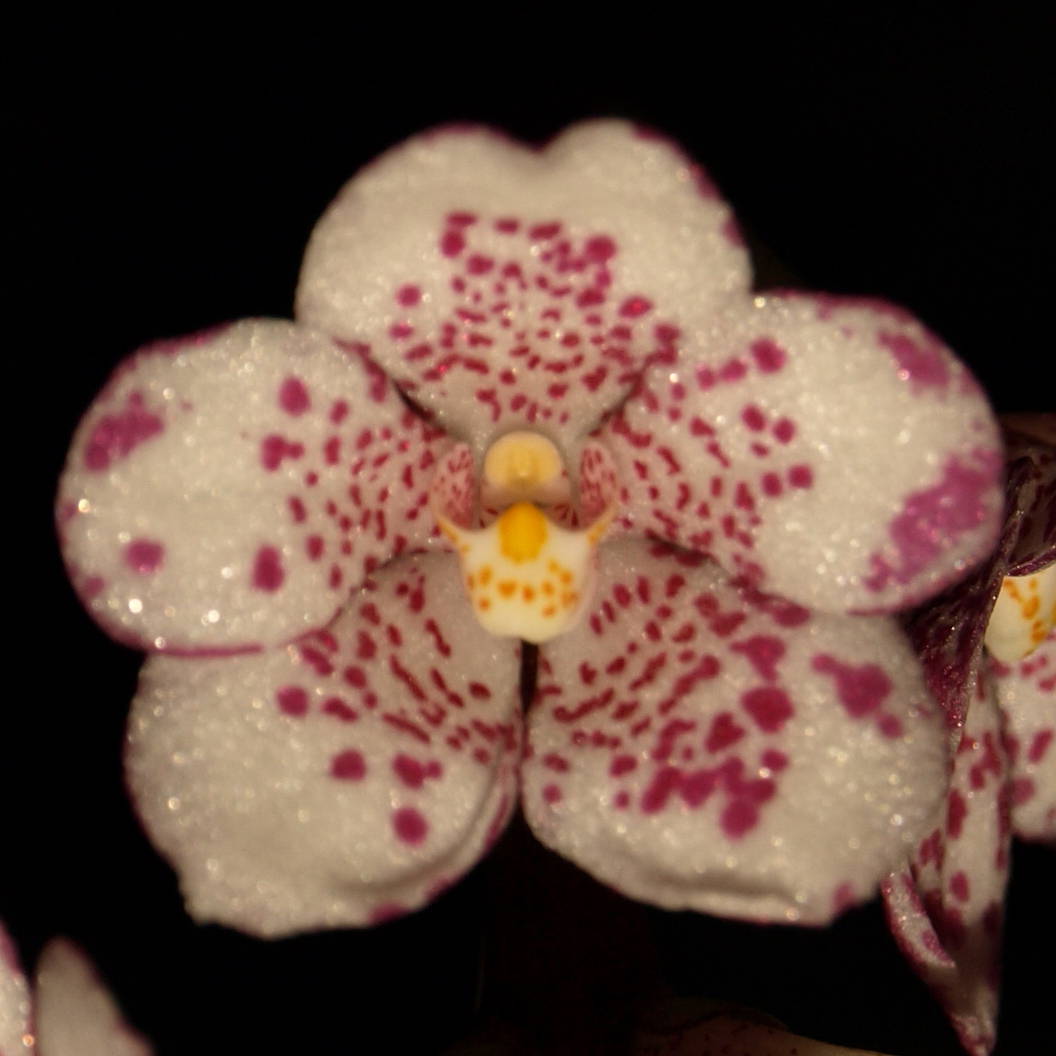 G042 Kulnura Dazzel 'Red spot' x Kulnura Secure 'Ghost' $100
'Red spot' is from the same generation of Kulnura Dazzel as 'Deep Velvet', which means it carries recessive red. But in this cross we are looking to move away from the red towards the spots. We are looking to build truly red spotted flowers on stark white backgrounds. We flowered a similar cross this last season and this new style is very attractive and eye catching.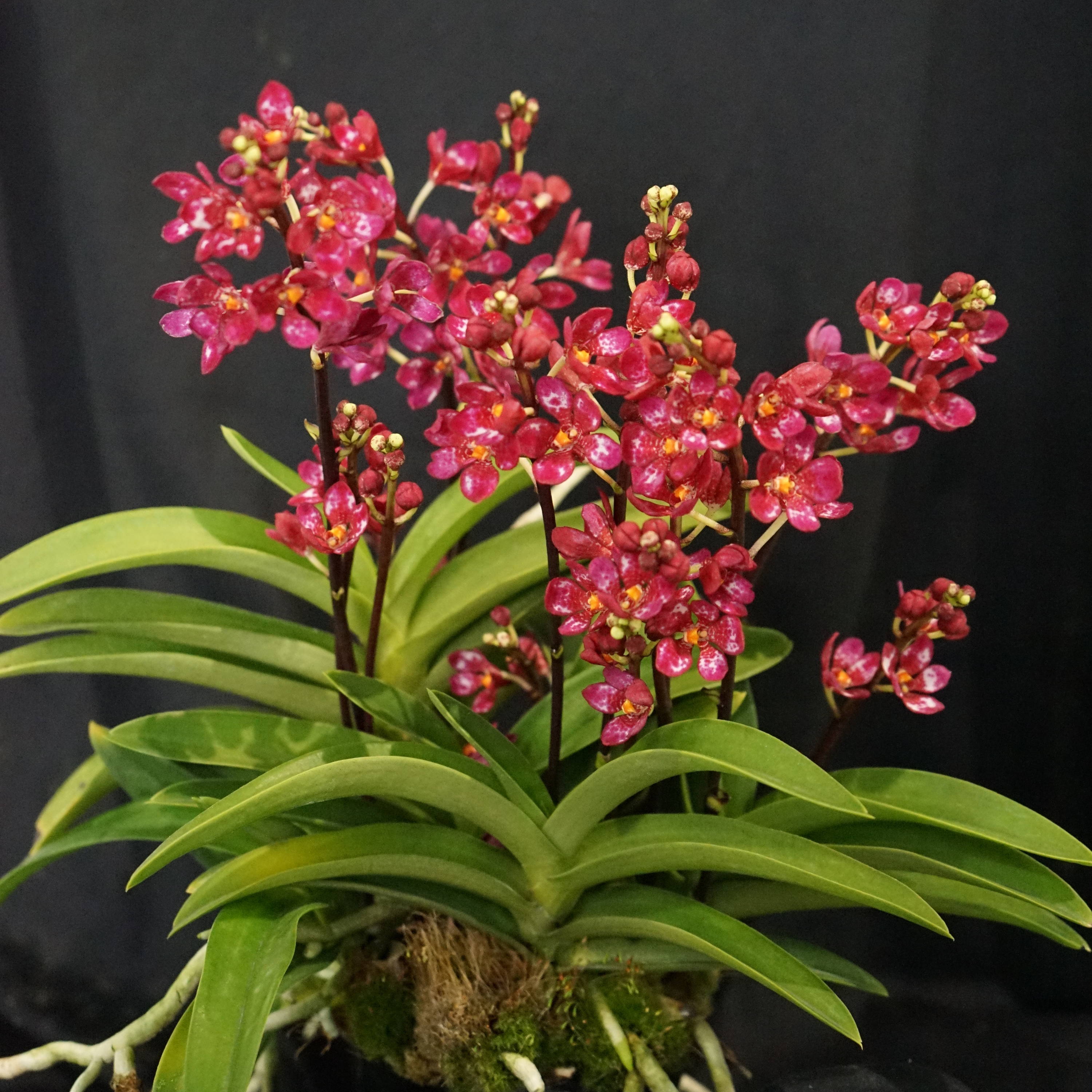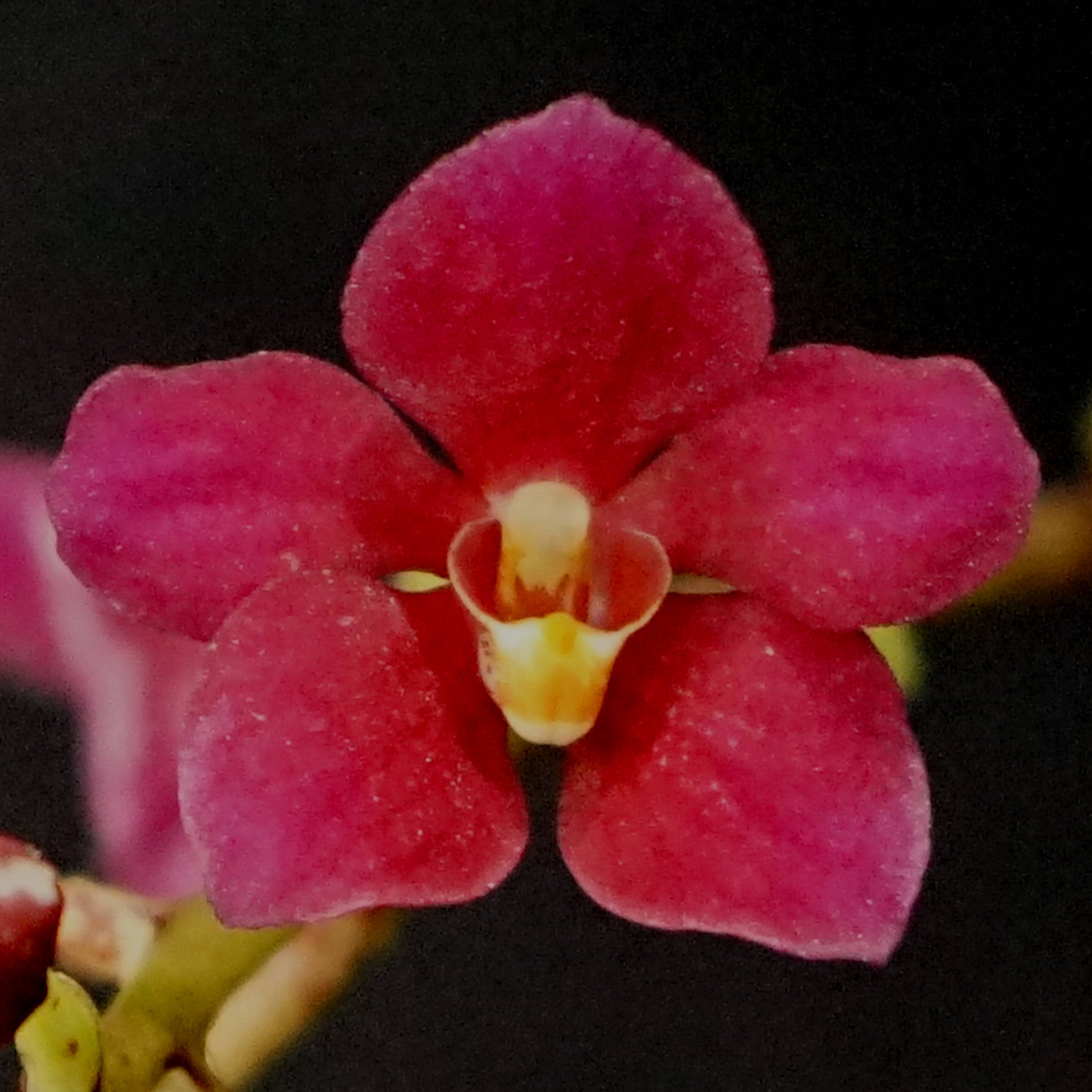 G046 Kulnura Drama 'Bunch' x Kulnura Quickstep '2 on tube' $75
We are constantly looking to improve the spike production of Sarcochilus from small plants. As the name of Kulnura Quickstep '2 on tube' implies this plant produced 2 spikes on a 2inch tube in under 12 months from flask. Expect pinks and reds in abundance.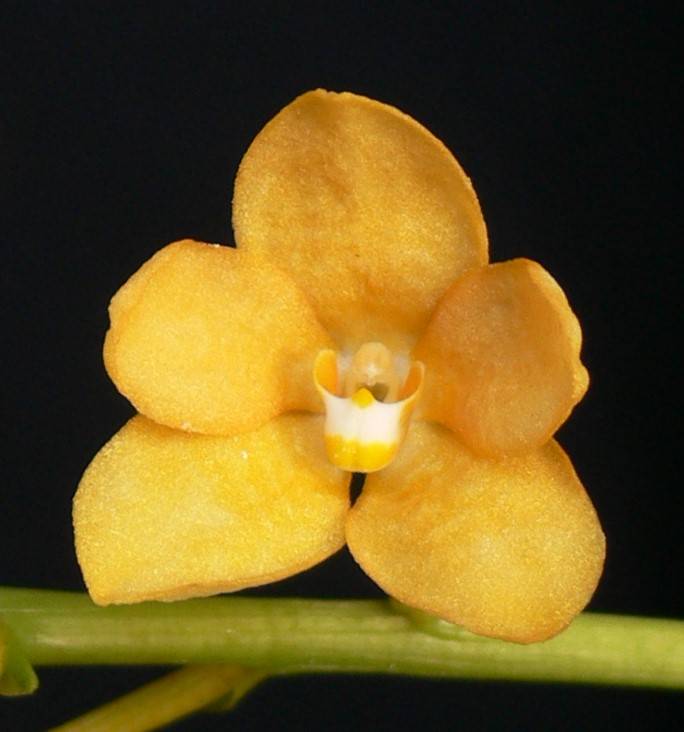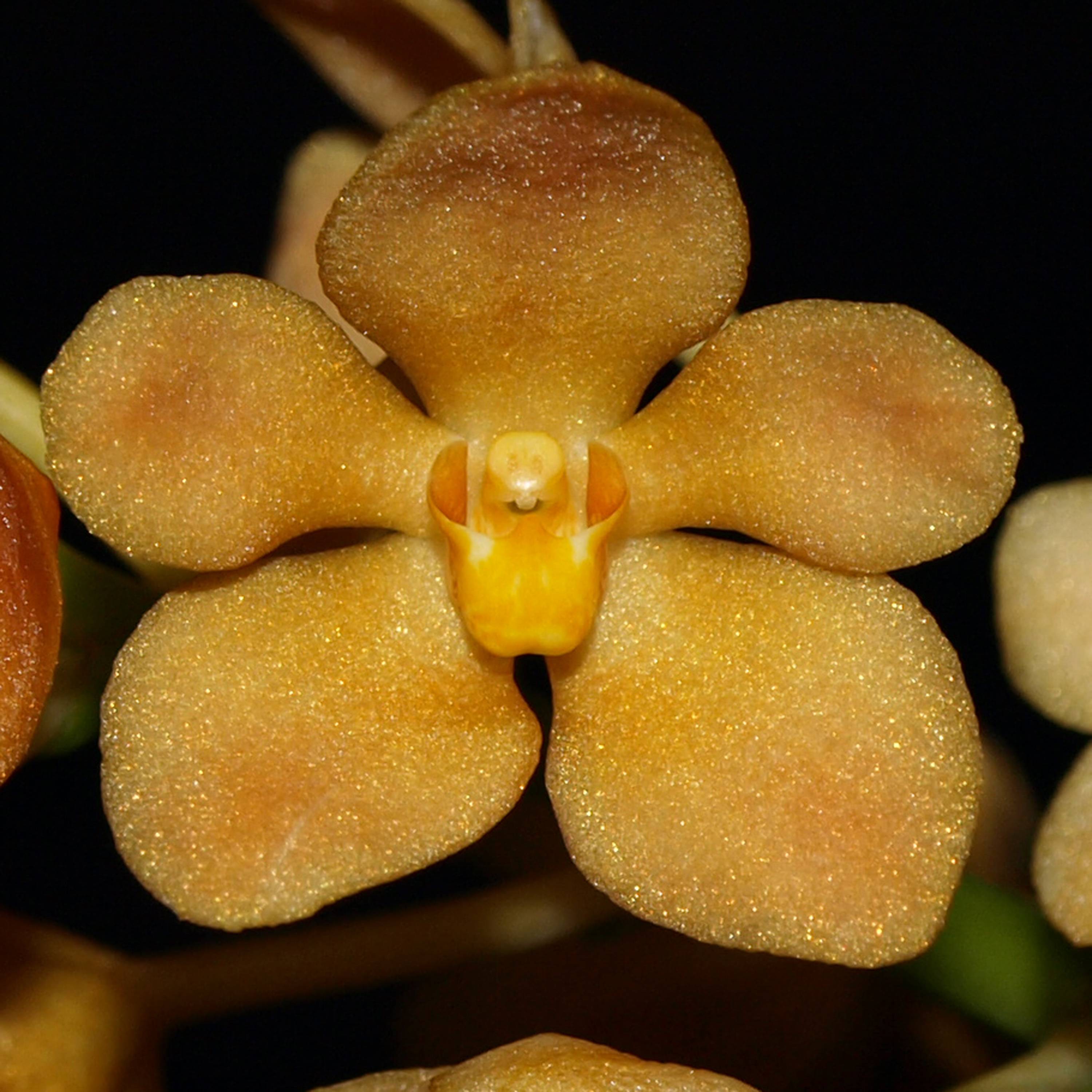 G050 Kulnura Kaliedescope 'Chesell' x Kulnura Mischief 'Orange gold' $100 limited availability.
100% golden yellow! 'Chesell' is from the original Kulnura Kaliedescope cross and it set the bar for rich, golden yellow. Through our experience, we have learnt that this colouring is repeatable, so a cross like this will yield some of the most wonderful homozygous golds seen to date. Exceptional!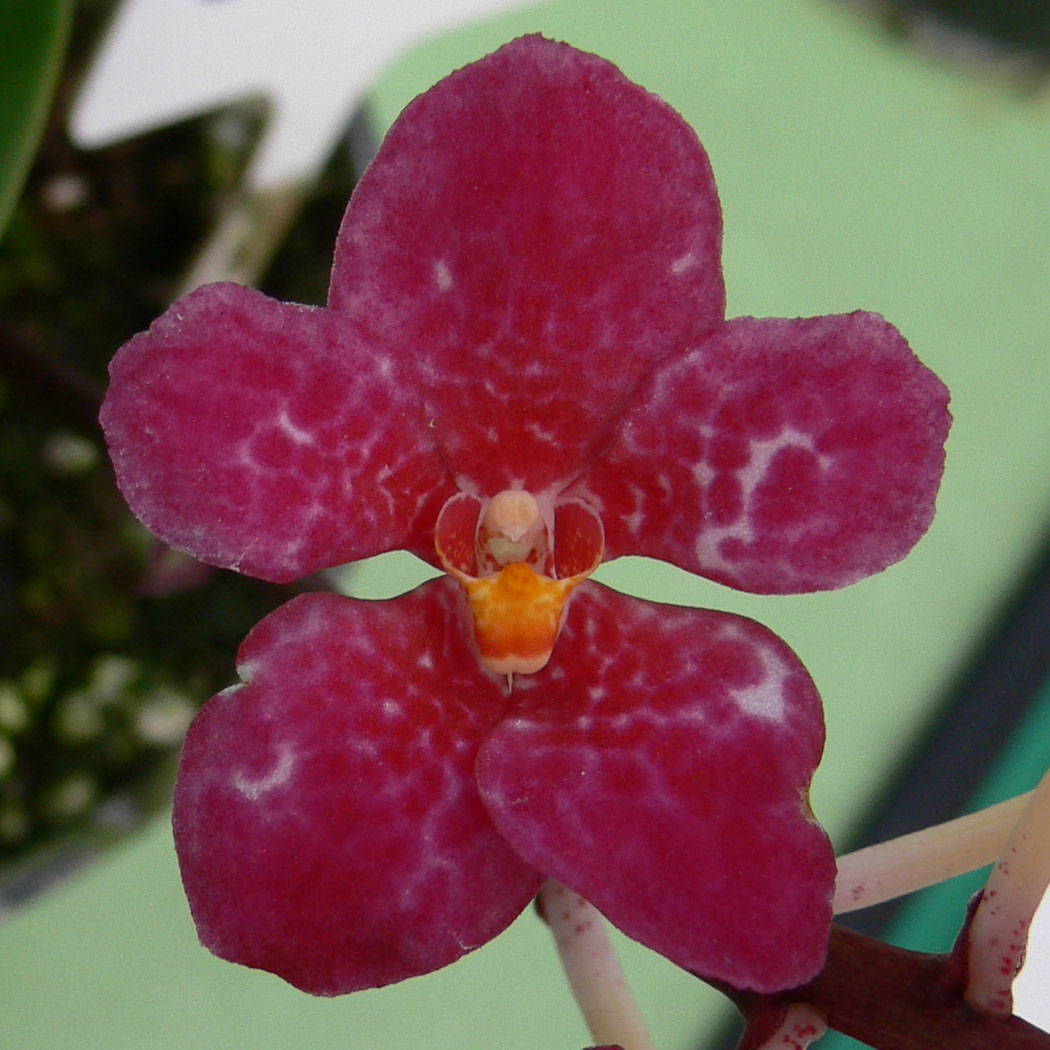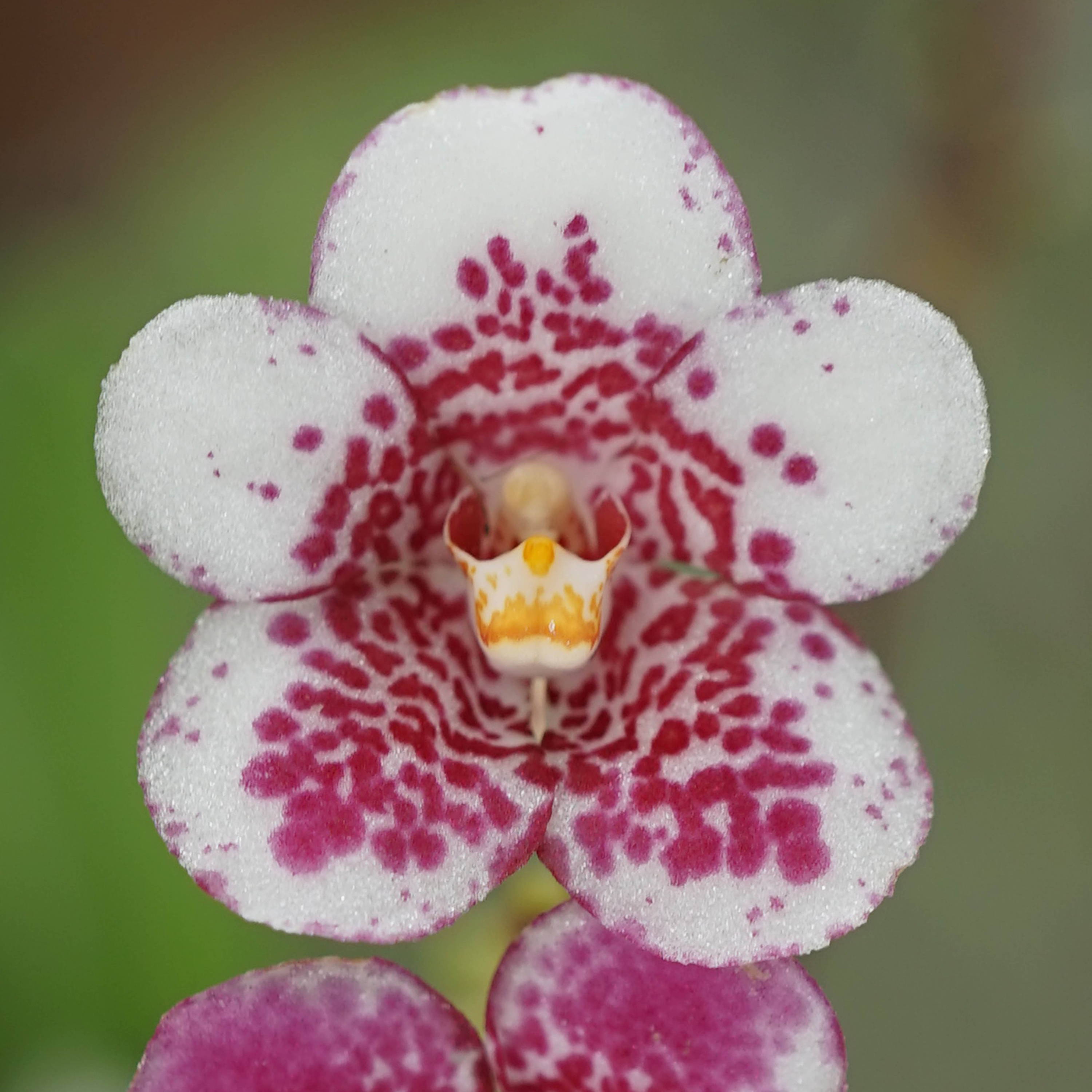 G054 Kulnura Dazzel 'Big Purple' x Sweetheart 'Speckles' $100
Remake of Kulnura Passion. This is a cross I have made numerous times as the results are still current today. In fact one of this grex was awarded last May at the Orchid Society of California show. We can expect beautiful, high quality Starburst patterning on good size flowers. Spikes will be upright and display the flowers clear of the foliage.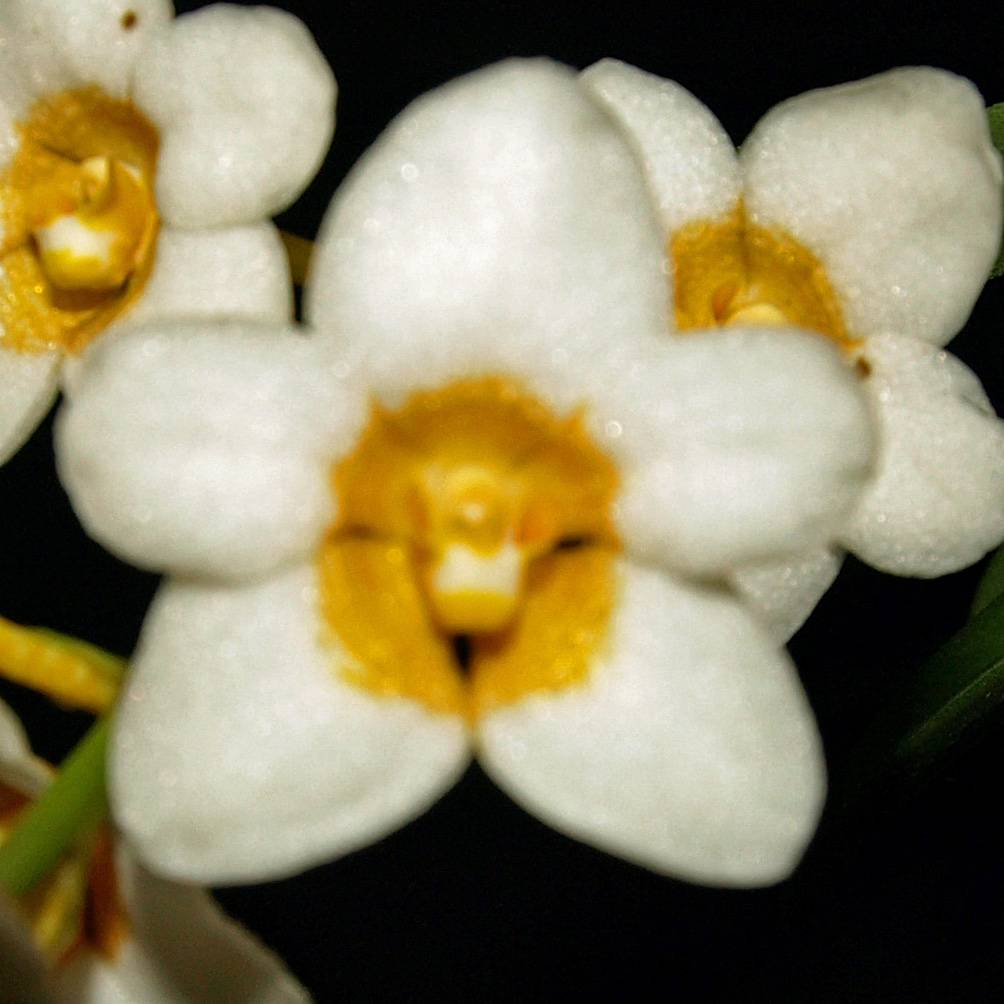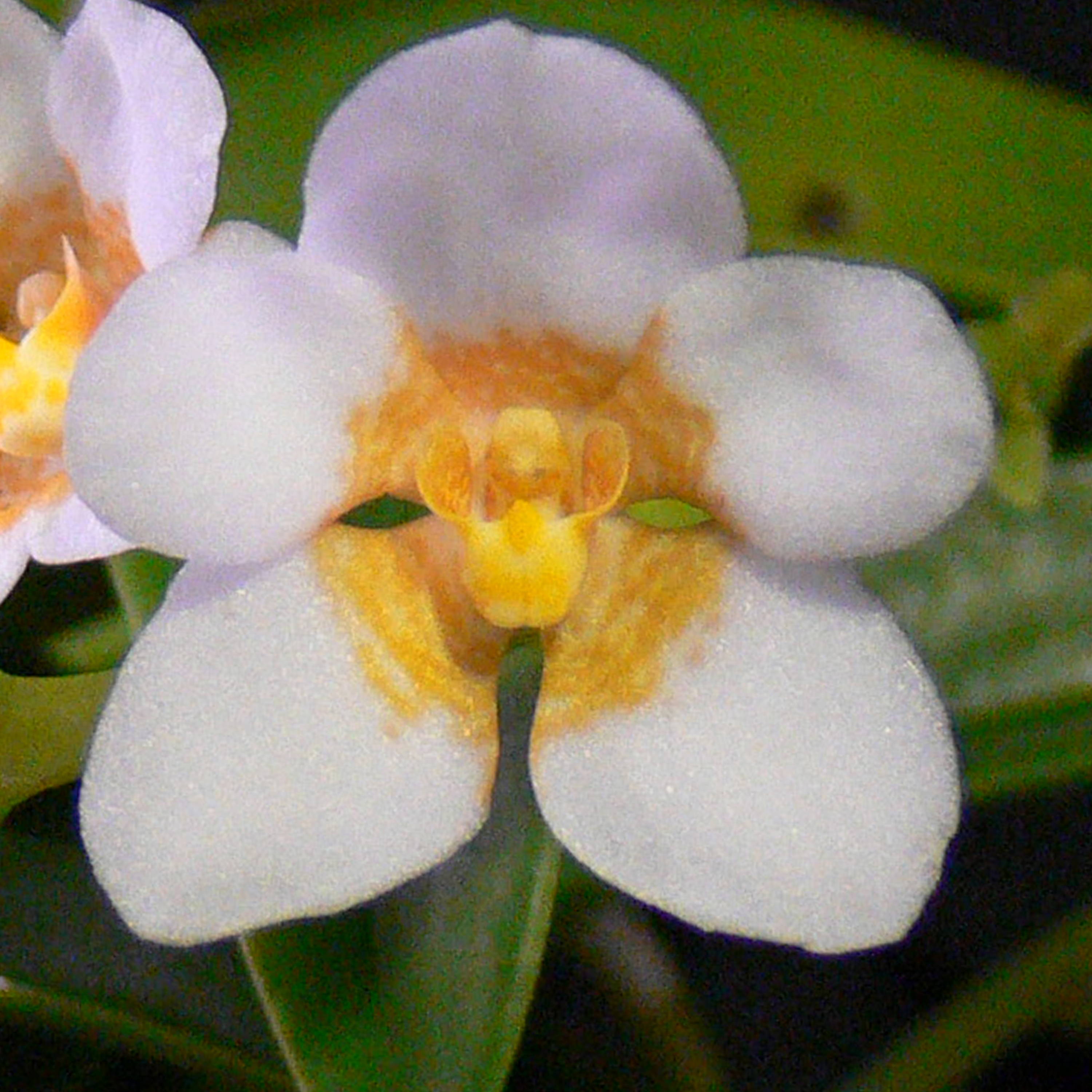 G061 Kulnura Joy 'Golden snow' x Parma 'Lemon Cent' $85
The shape and clarity of colour in these "Poached eggs" is outstanding. In the wide range of colours in Sarcochilus I am drawn to the purity of this white style. Expect 100% yellow centred whites from this cross.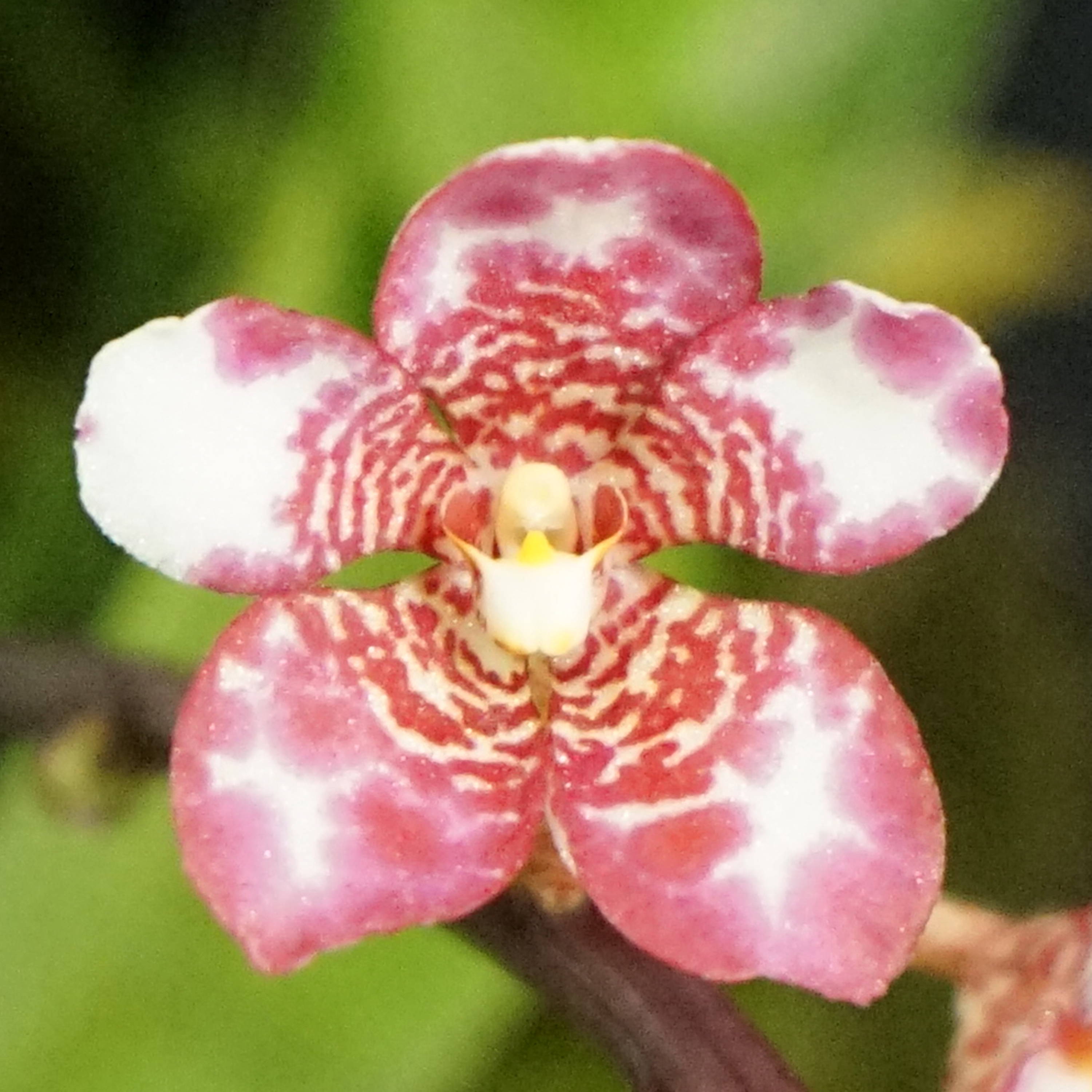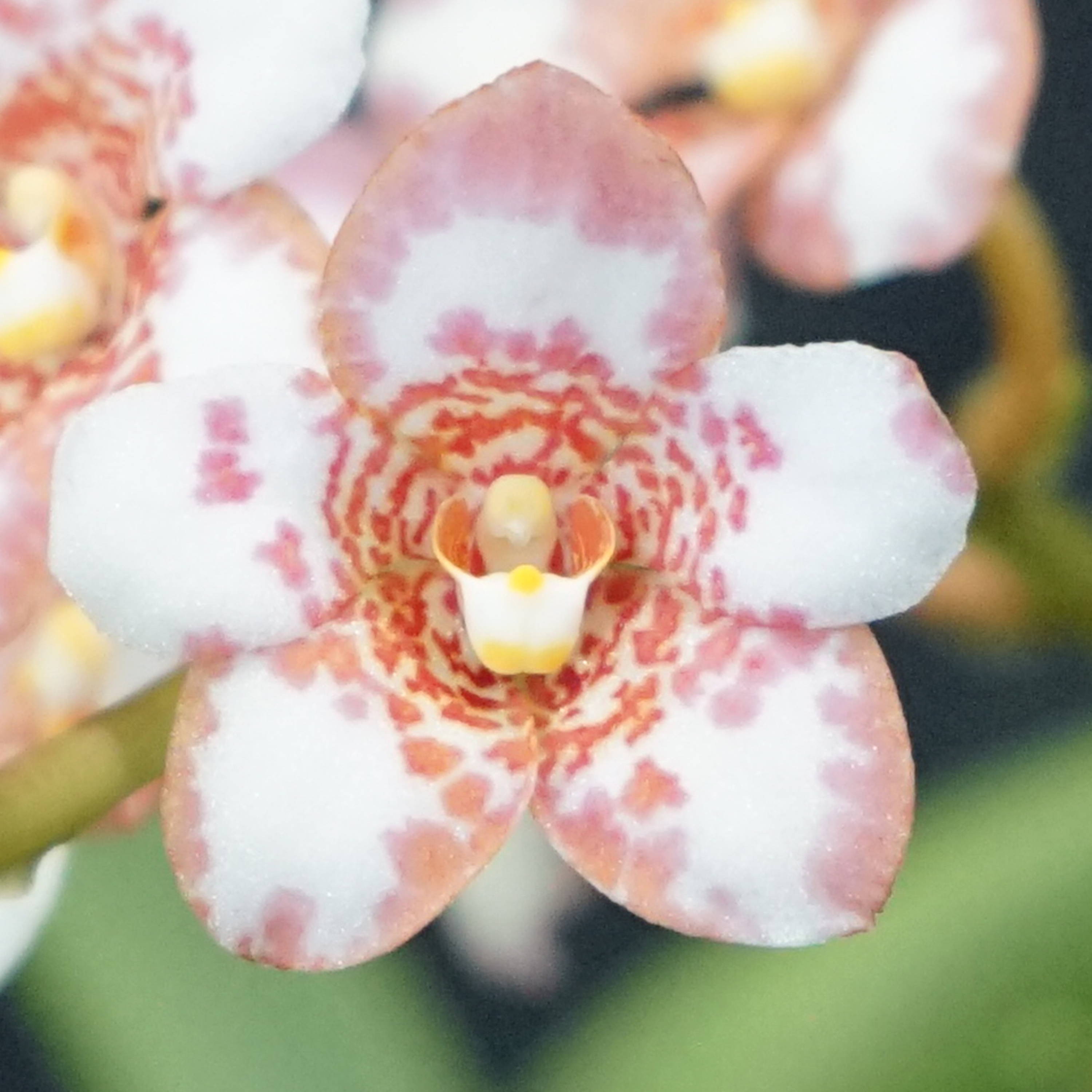 G063 Kulnura Blend 'Dilute' x Kulnura Blend 'Pink Picotee' $85 Limited availability.
This is the first time I have released this style of breeding. We call them "Dilute pinks", they are between pink and orange. In this sibling we are working to stabilise the style. A cross like this does have the effect of releasing all the potentials, so we will see dilutes, yellows, oranges and whites. Slight chance of patterned red.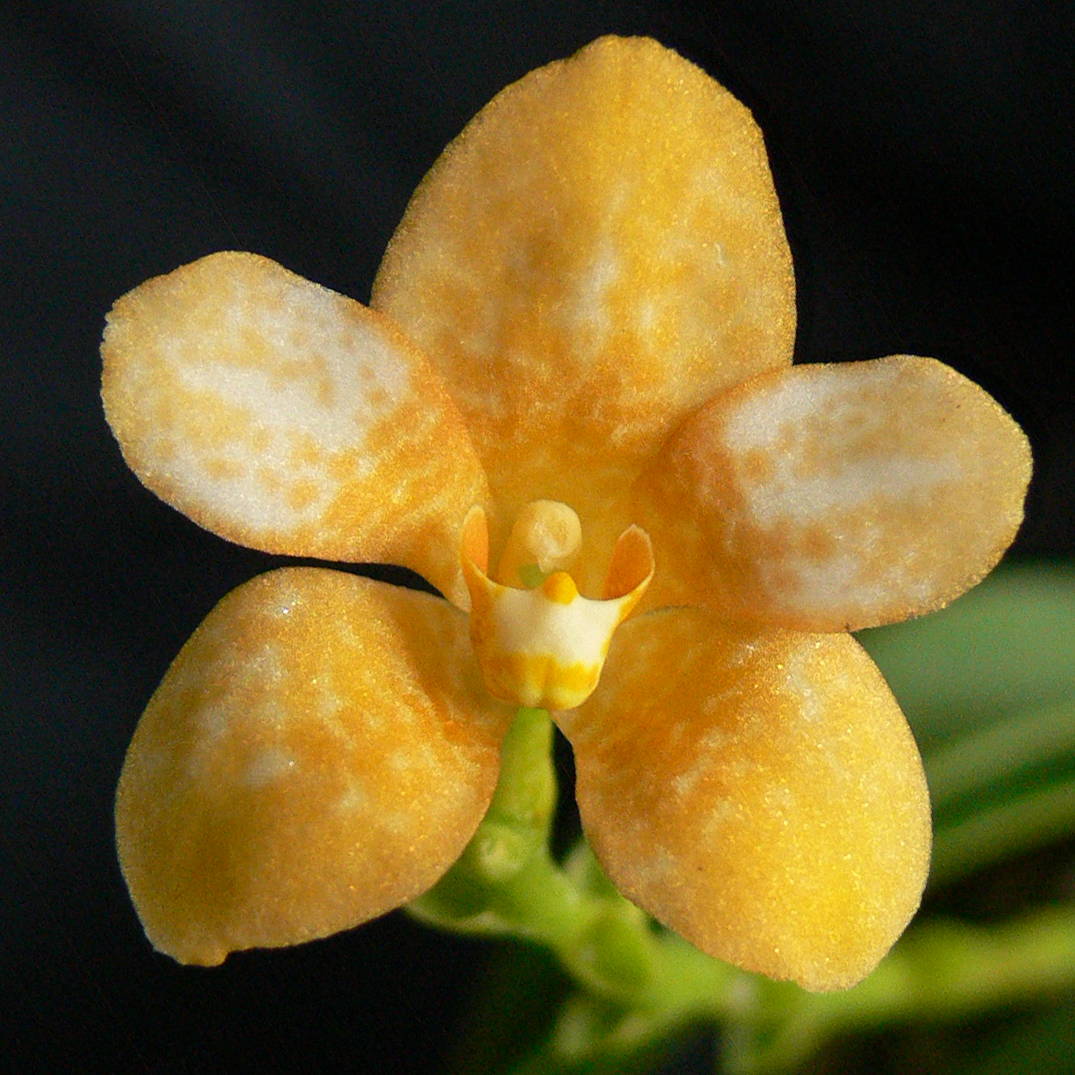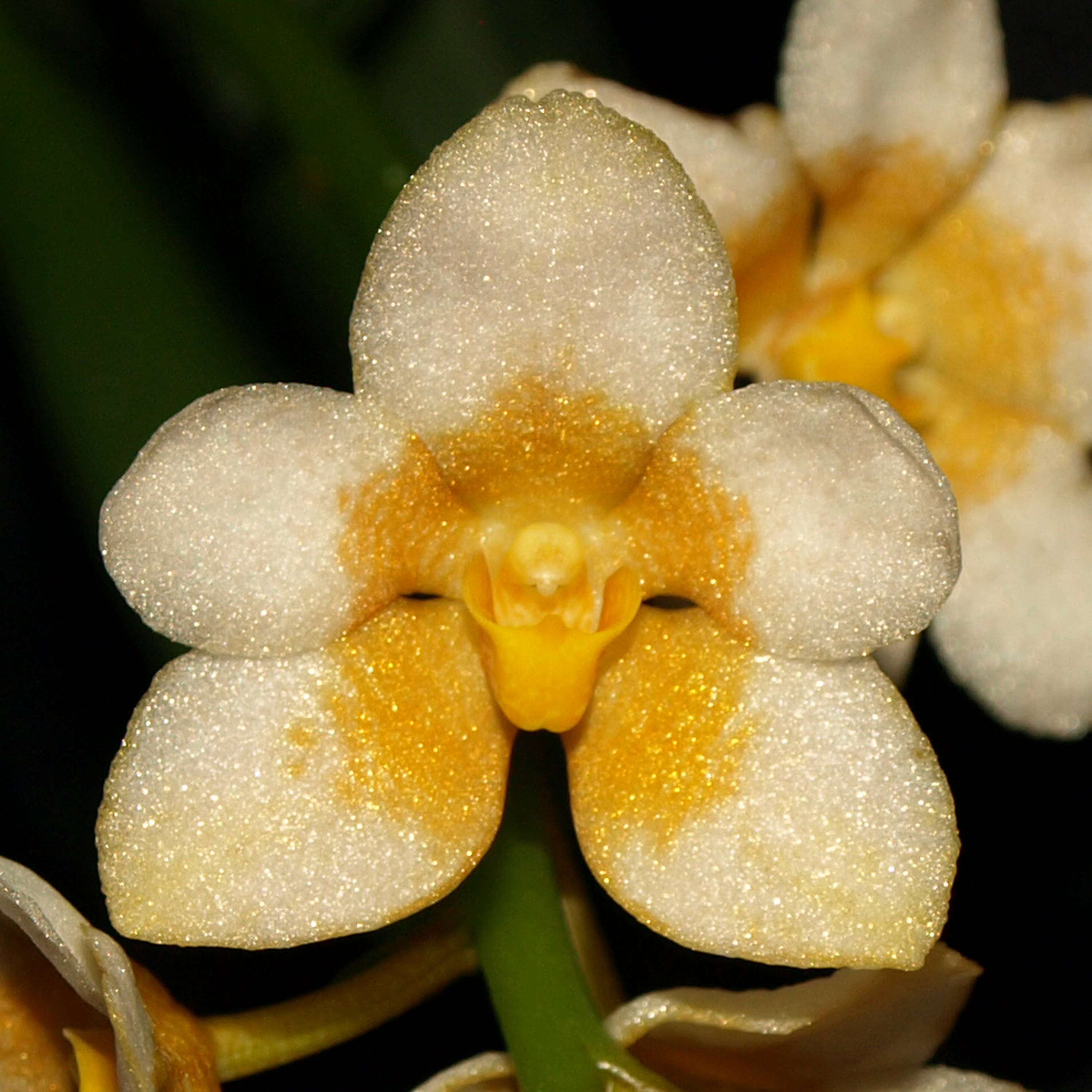 G066 Kulnura Coral 'Sparkle' x Kulnura High 'Melba' $85
Kulnura Coral makes the most floriferous offspring we have seen. Last year, a second flowering plant of one growth produced 13 spikes! By combining it with the fuller formed and excellent pedigreed Kulnura High (Madge x Bunyip) we can expect filled in flowers in a wide range of yellow expressions. In particular we are looking for the accentuation of the white to create contrast in the flowers.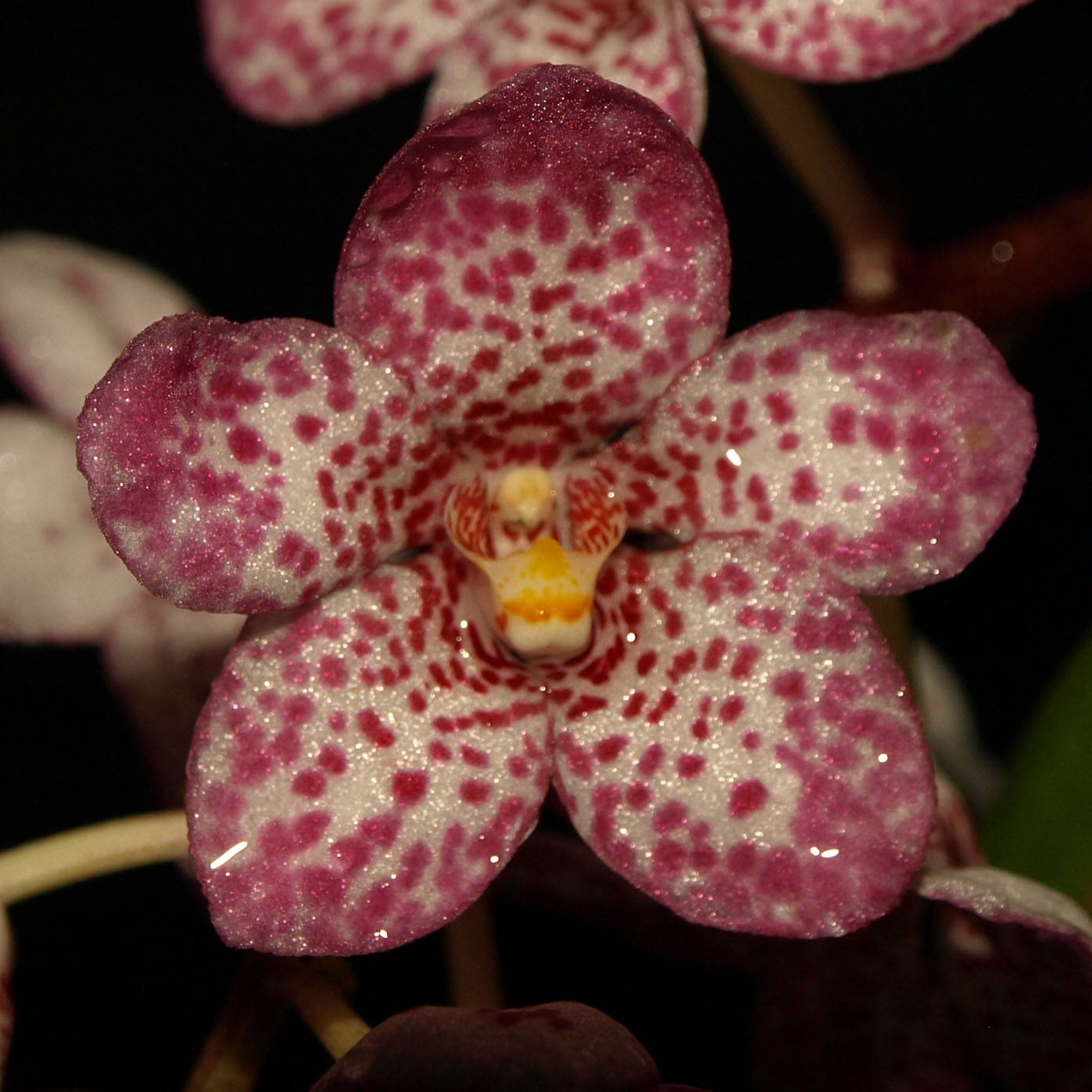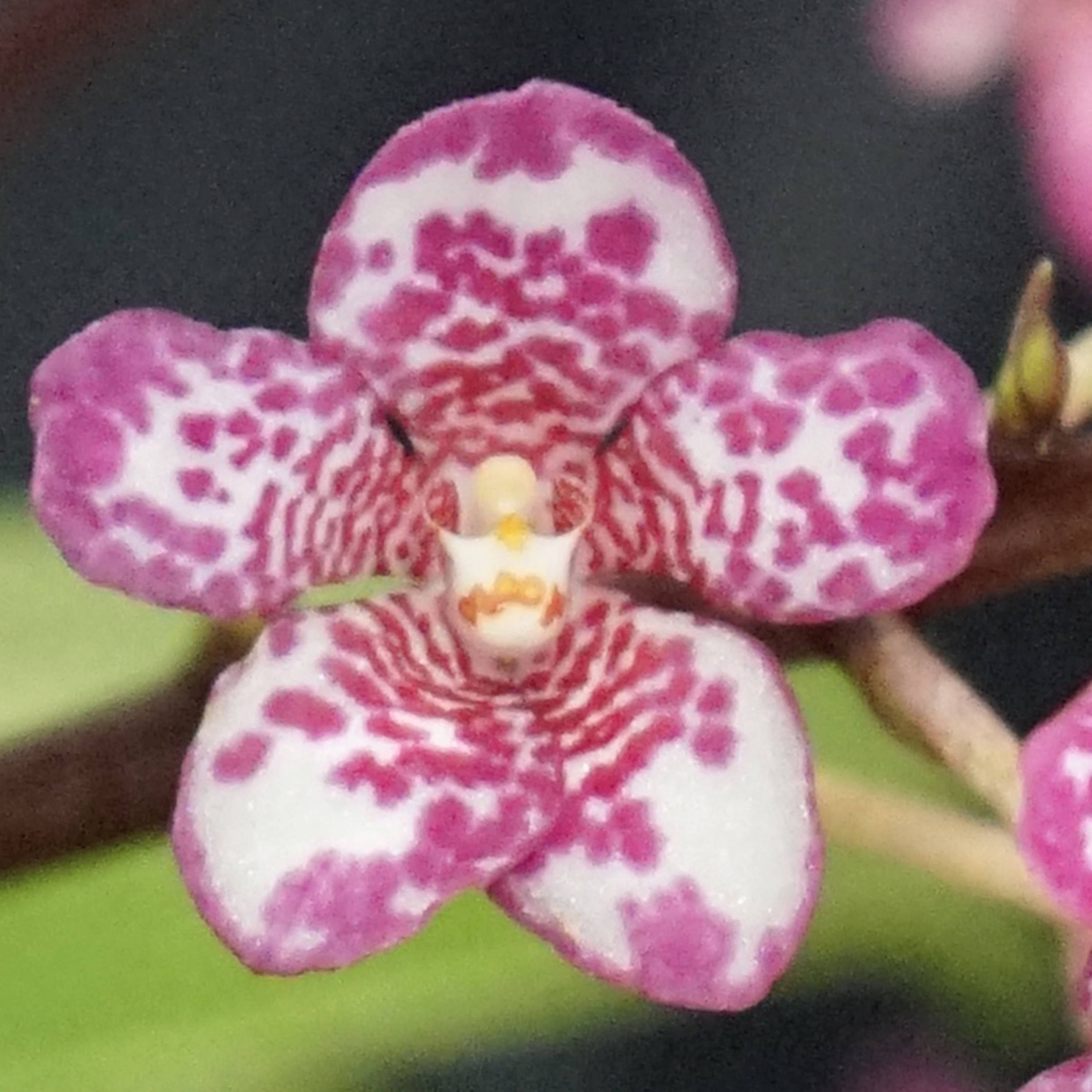 G086 Kulnura Gifted 'Pure spot' x Kulnura Pass 'Pepper' $100
One of the aspects of breeding Sarcs that I love is the diversity of colour styles we have now, and as a hybridiser, trying to replicate the little intricacies. These two flowers have a lovely pink picotee to the spotted flower. I love that highlight and this cross is aimed at reproducing it with the same Kulnura Sanctuary as a grandparent on both sides. I expect a high percentage of fine spotting on full formed flowers.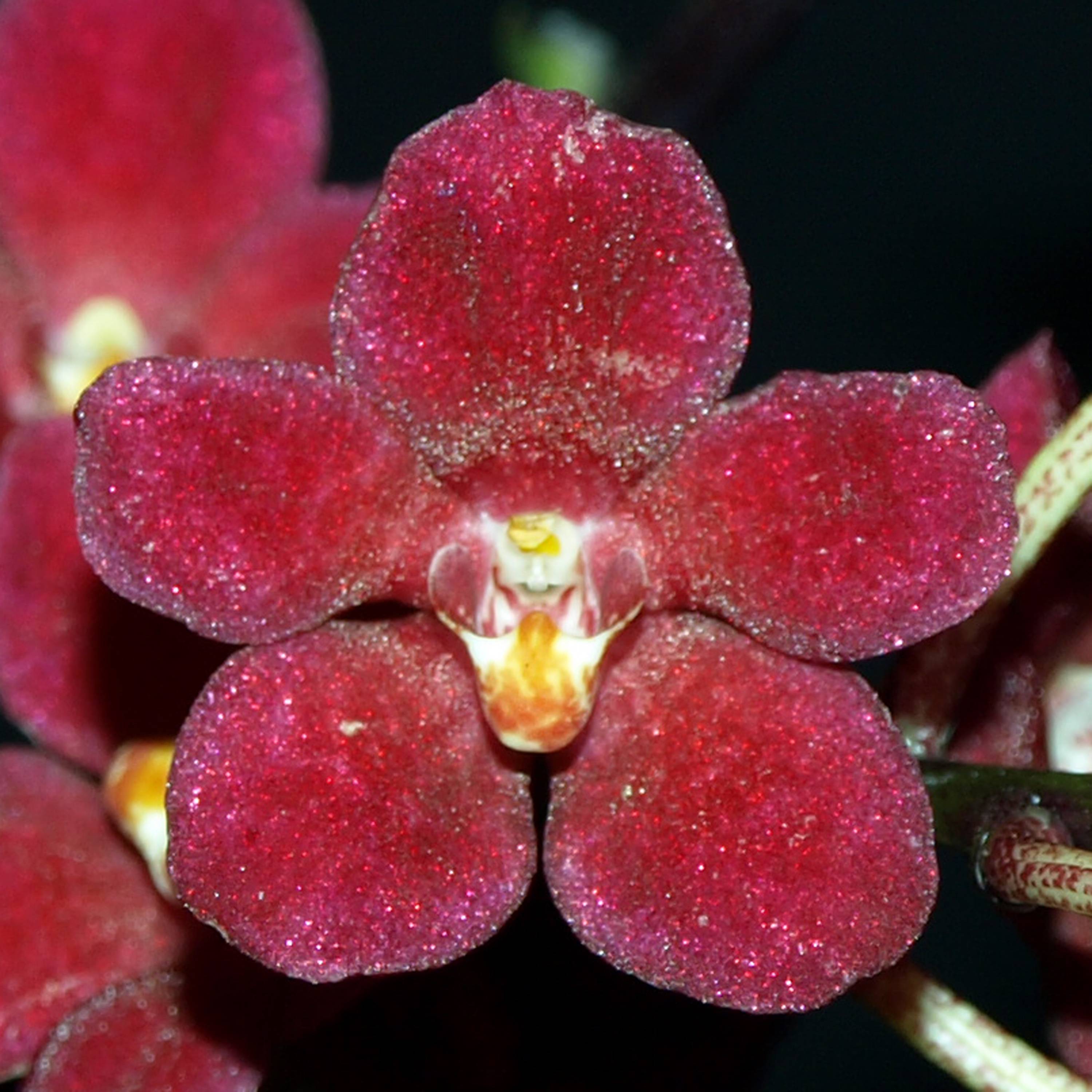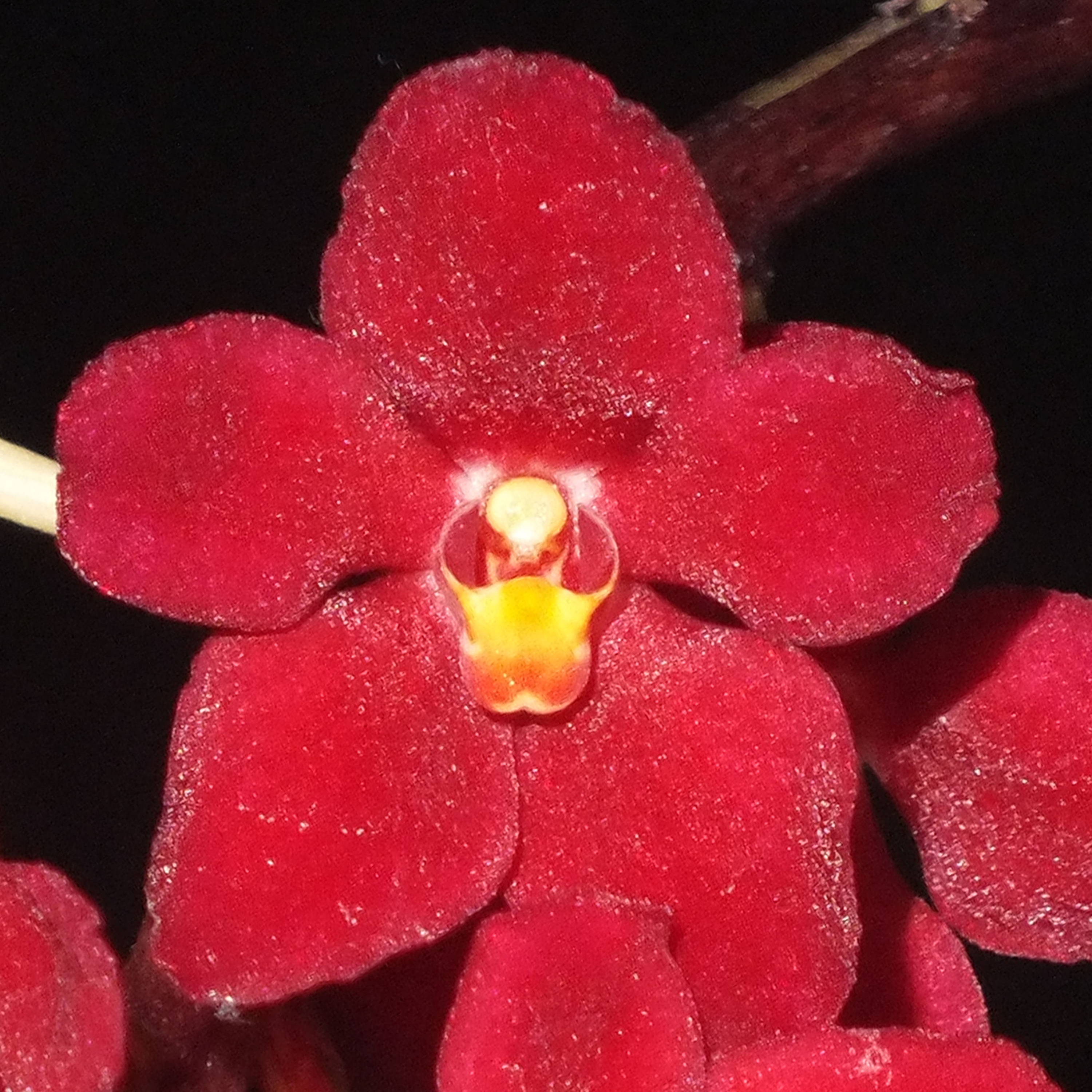 G103 Kulnura Whomping 'Lota red' x Kulnura Fireball 'Intense' AD/AOC $125
There are some crosses that get you excited when you come across them. For me. this is one of them. When writing these descriptions I like to look at the ancestry of the parents and this cross has a star studded background. True red is recessive and here we have two generations of homozygous red expression. You can only get red from this cross. You want these!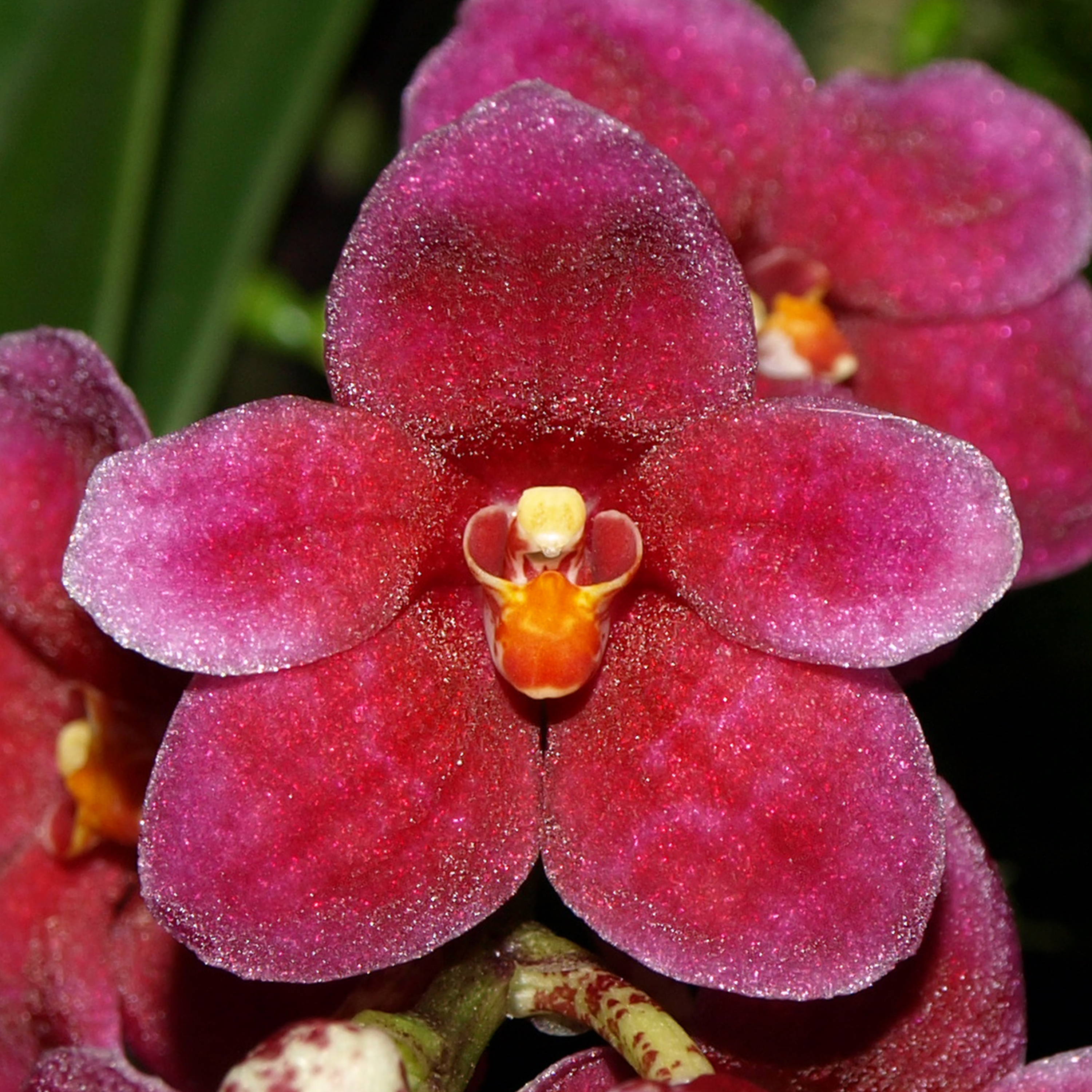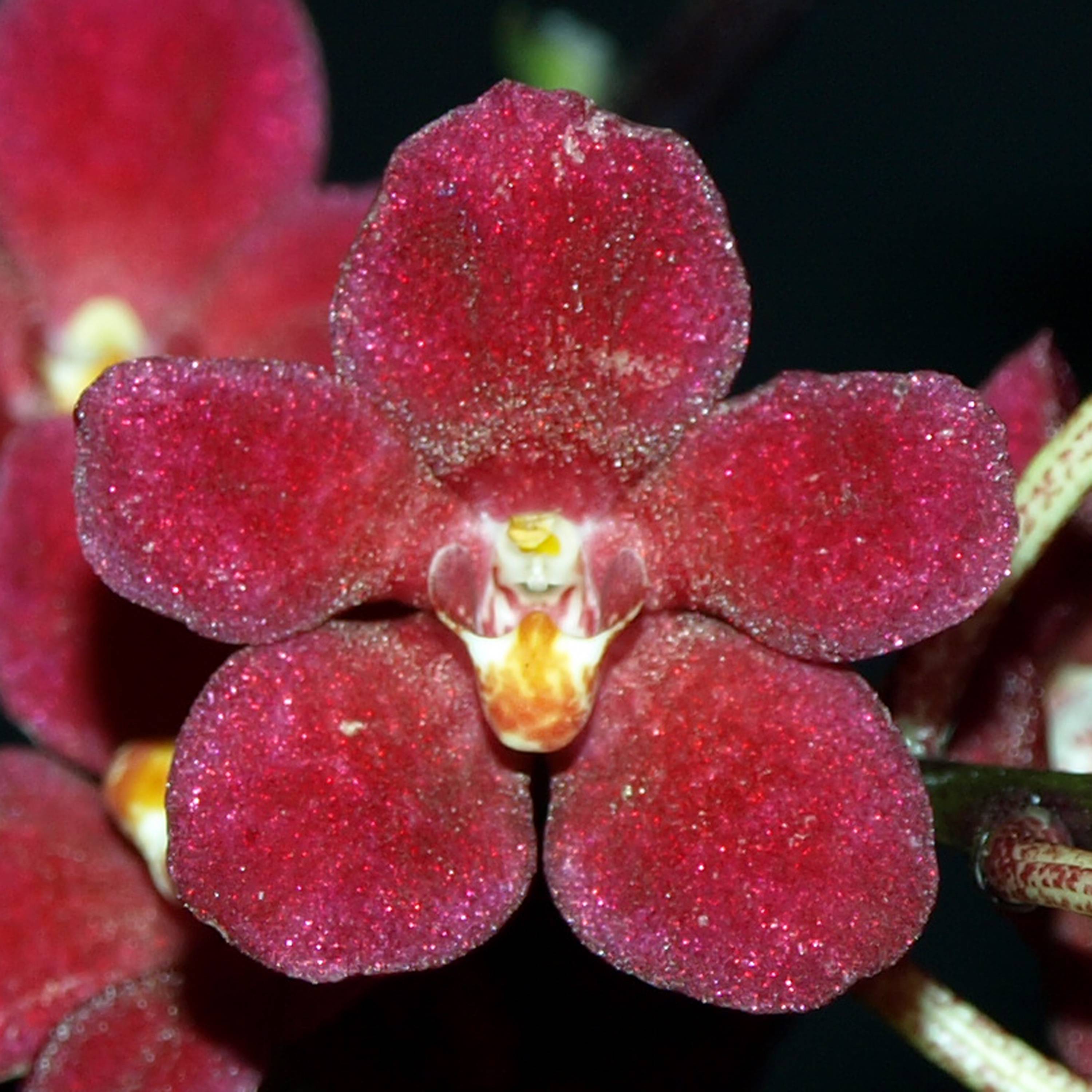 G110 Kulnura Ridgeback 'Rosey' x Kulnura Whomping 'Lota red' $125
Who loves velvety dark reds? These are two wonderful parents that will give us full formed reds on upright spikes. I love the downward swept petals of Kulnura Ridgeback. This trait has carried through from it grandparent, Kulnura ripple, and is visible in each generation since.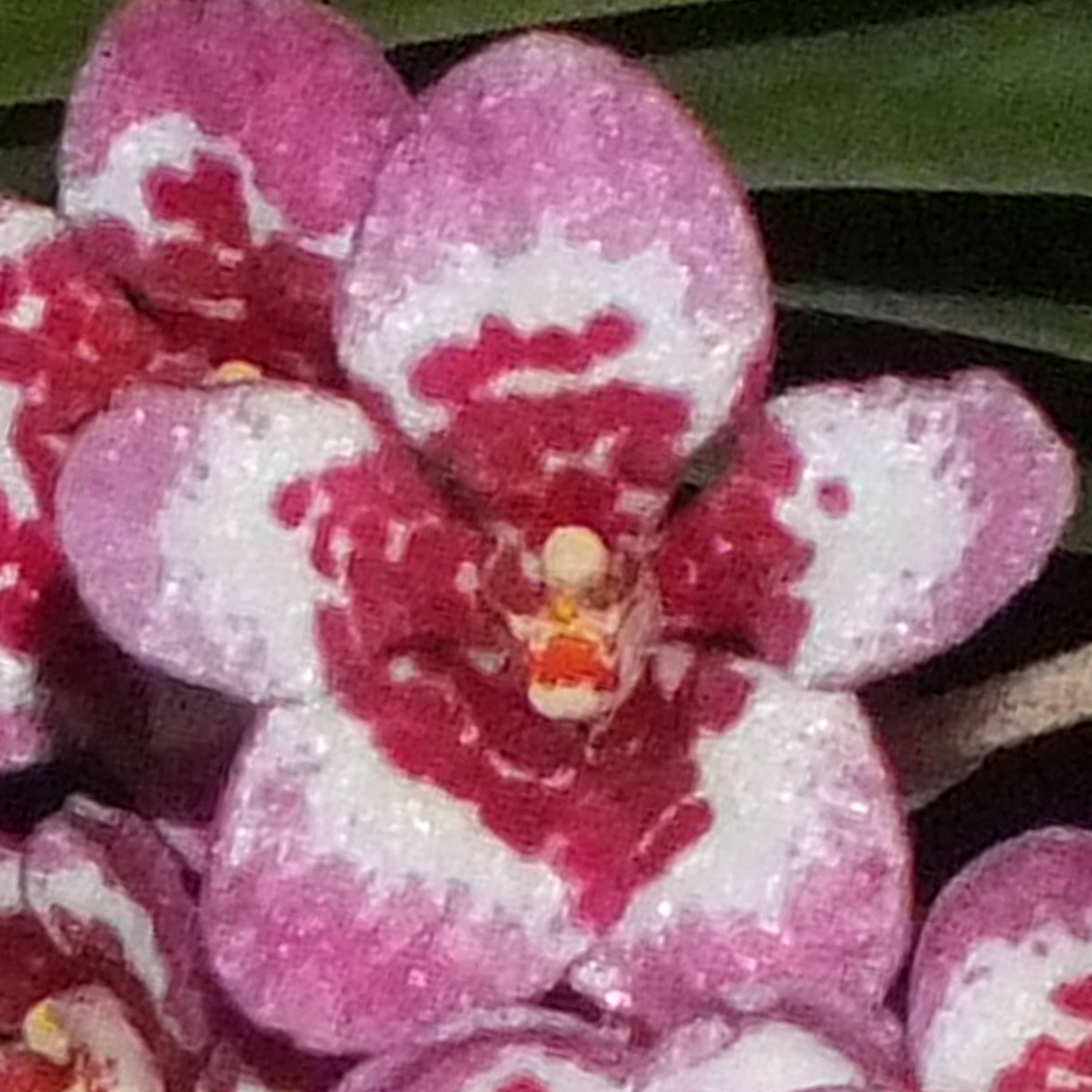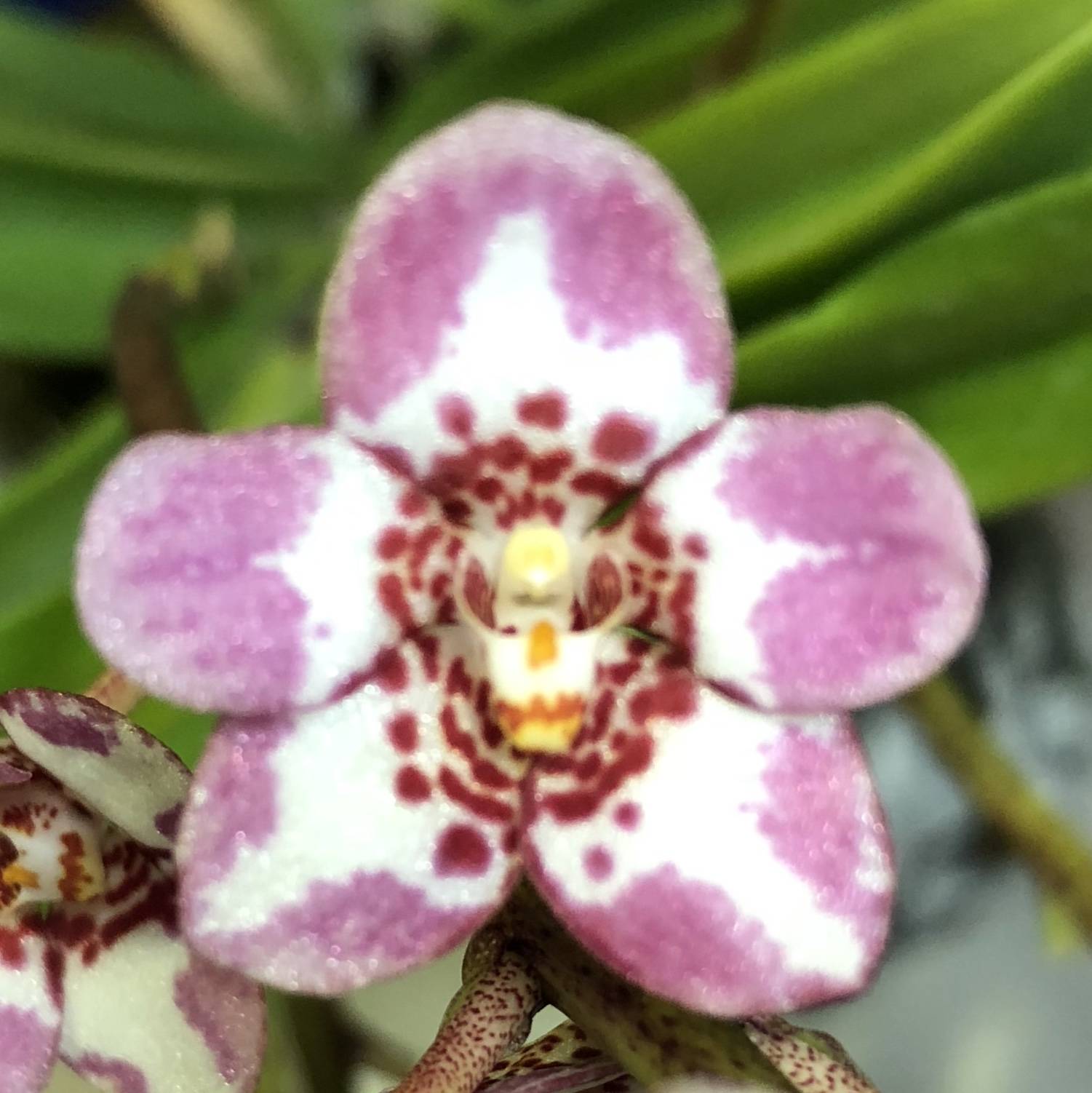 G123 Kulnura Gifted 'Fireworks' AM/AOC x Kulnura Max 'Cup Fimbri' $100
These are my two favourite starburst parents. Just look at the pictures. Everyone who sees 'Fireworks' wants it. This is a cross not to be missed. Full formed flowers on multiple upright spikes. Highly recommended.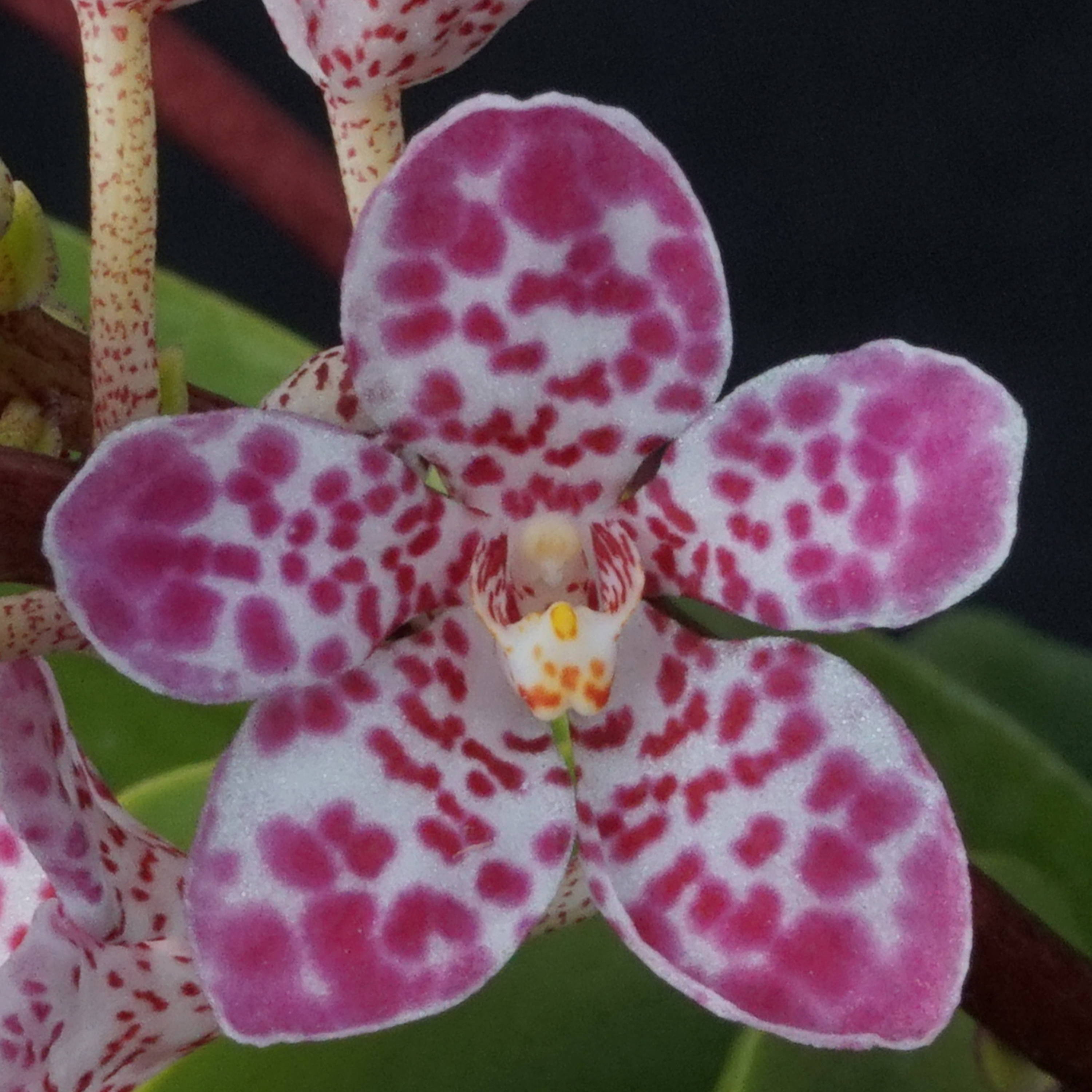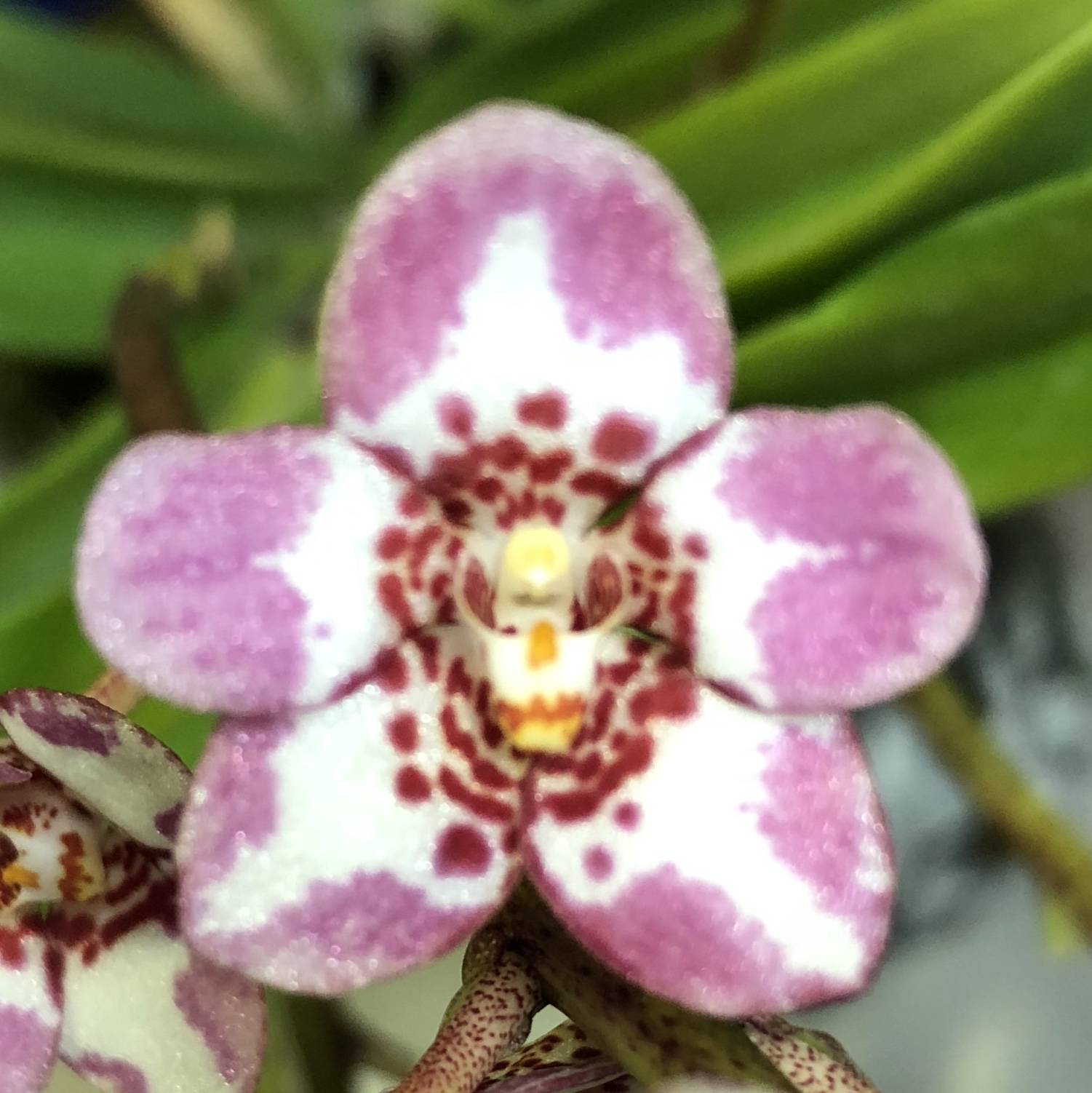 G129 Kulnura Secure 'Pink tips' x Kulnura Max 'Cup Fimbri' $85
The Kulnura Max (hartmannii x Kulnura Sanctuary) grex is predominately a white cross, 'Cup Fimbri' is the only exception from it siblings. And what a stunning exception it is. The wonderful clarity of marking and the presentation of spikes is excellent. In combination with 'Pink tips' we are expecting very floriferous plants, showing the range of Starburst style expression. Some spotting is expected here as well.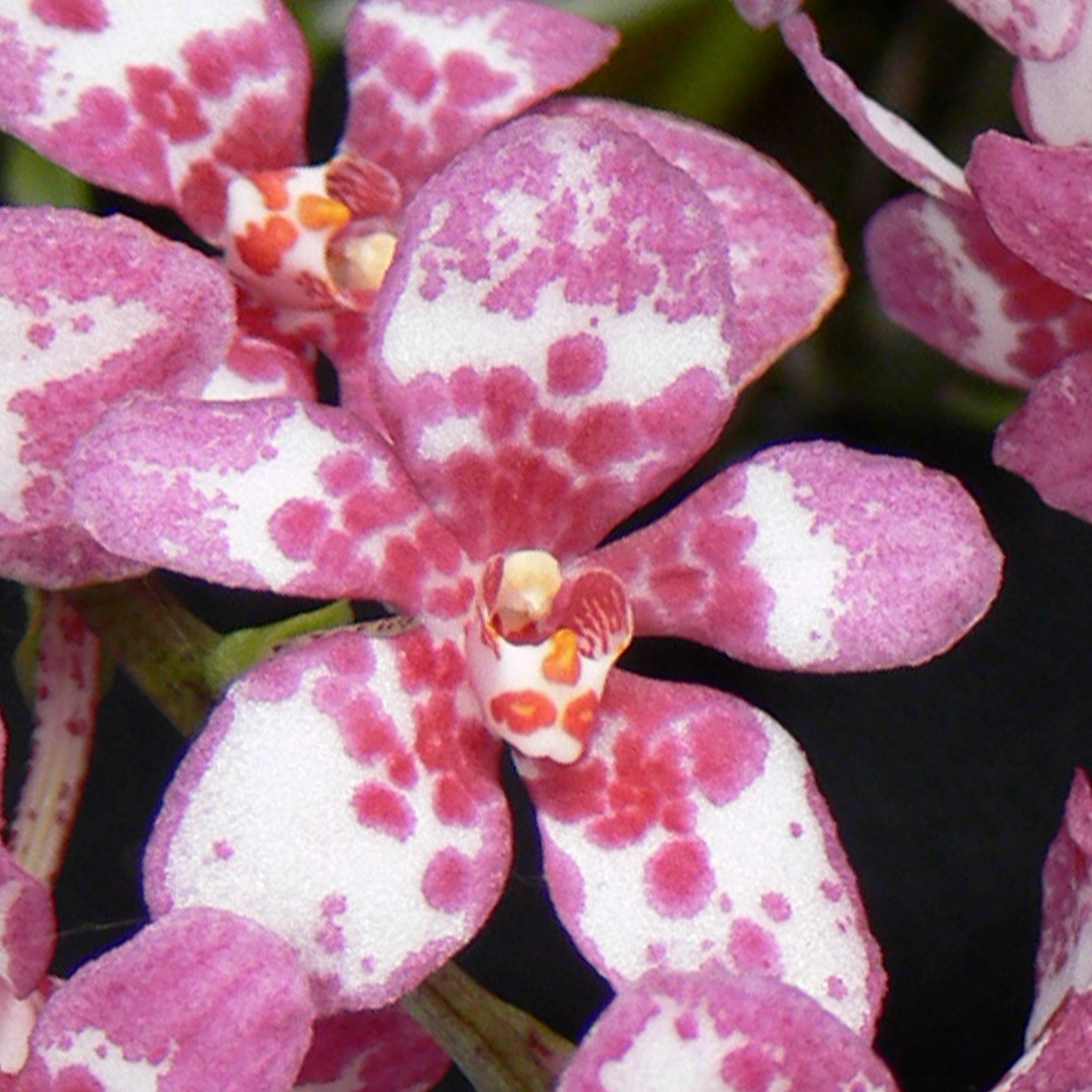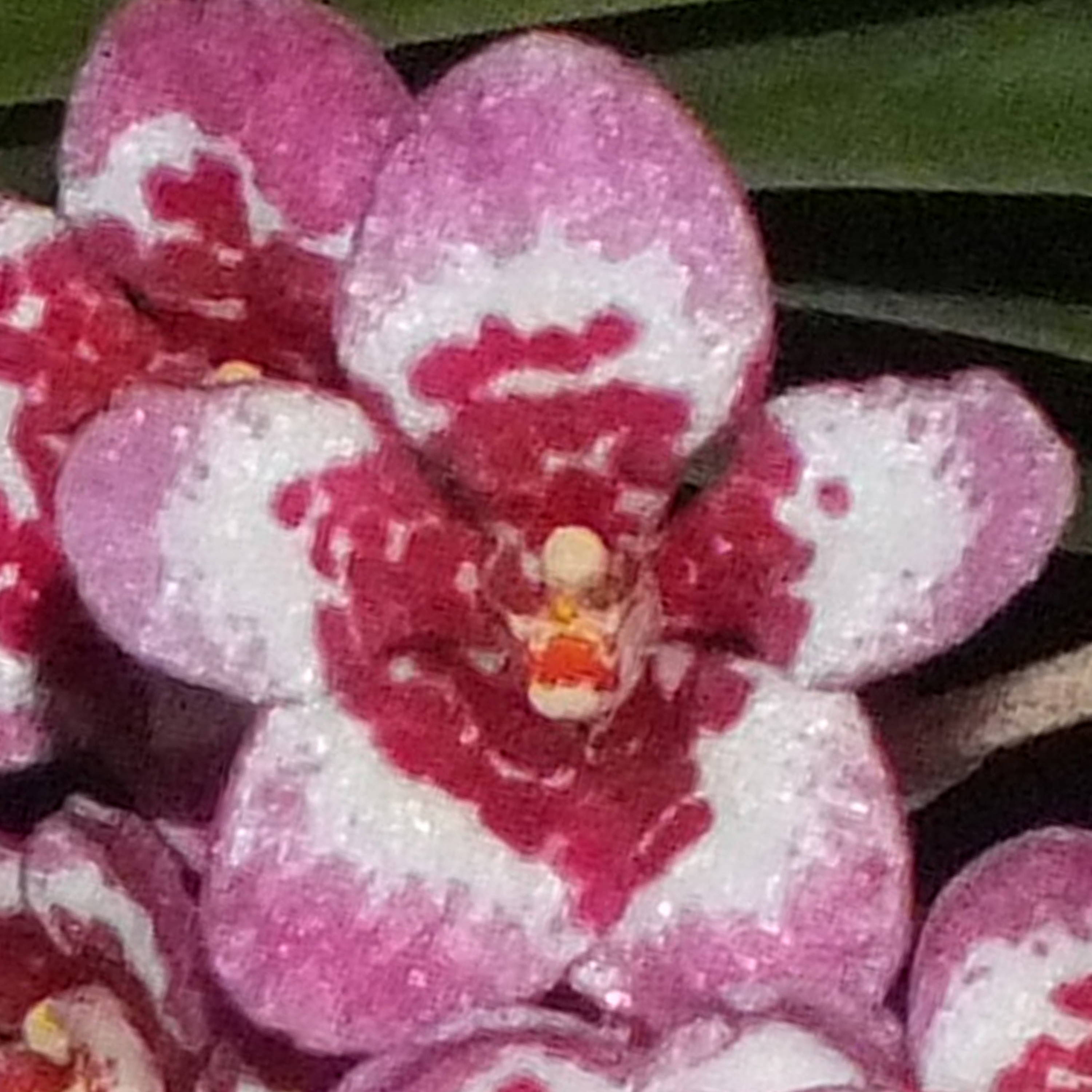 G136 Kulnura Ballerina 'Patern' x Kulnura Gifted 'Fireworks' AM/AOC $85
The Starburst style of patterning, 'Fireworks' is a great example, is my favourite colour of Sarcochilus. When in flower this plant is like a beacon fro visitors to our nursery. It is truly stunning, not only for its colouring, but also the profession of spikes. Expect upright stems of brightly coloured, flat formed flowers.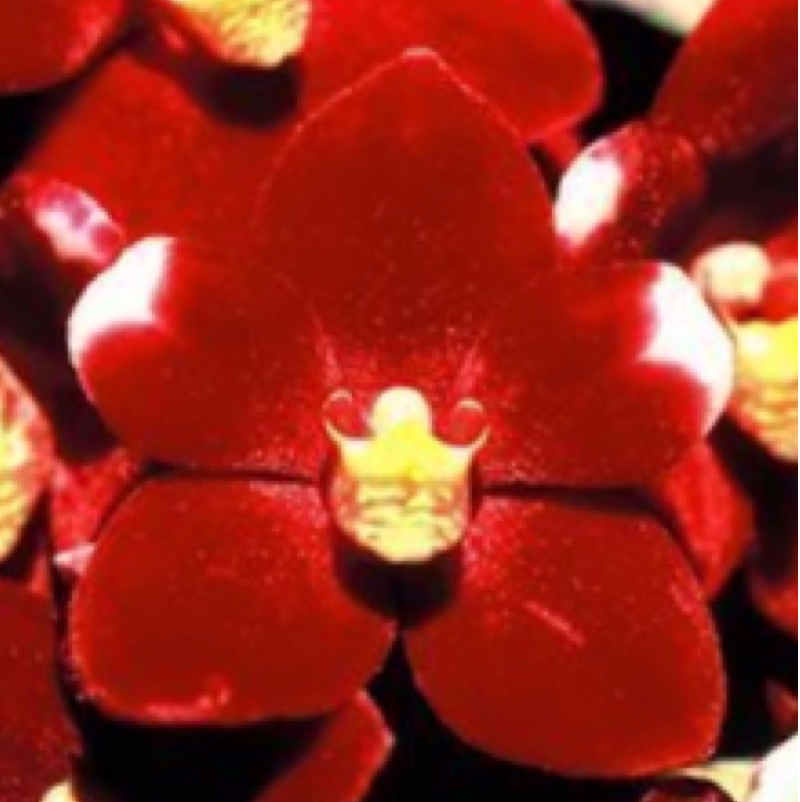 G138 Duno Nickys Twin 'Voo Doo' AM-AD/AOC x Kulnura Harrow 'Extreme' $150
This cross is a departure from our core philosophy regarding the genetics of Sarcochilus. Crosses with S. hurticalcar progeny have regularly led to reduced fertility in the offspring. When it comes to the big guns of Sarcochilus, they don't get any bigger than 'Voo Doo'. This is the first series I have used it and from what we have seen from others, we can expect reds and deep pinks on long arching stems flowering early in the season. Highly Recommended.